The opposition plans to hold its traditional rally on the anniversary of the Chornobyl nuclear accident to protest against President Alyaksandr Lukashenka's handling of the consequences of 1986 disaster.
Authorities have given permission for today's rally but warned demonstrators to stay away from a central Minsk square which was the site of protests last month against Lukashenka's reelection.
Milinkevich said prosecutors warned him not to appear at October Square today but said he would defy the warning.
"I was warned that if I violate the law, I may receive not only administrative punishment but also criminal one," he said.
Reports from Minsk say busloads of police and several detention vehicles drove into streets near the square hours before the rally was due to start
(with additional agency material)
Minsk, March 24
THE POLICE MOVE IN: RFE/RL's Belarus Service filed these images from October Square in the early morning hours of March 24. All photographs were taken by Yuliya Darashkevich.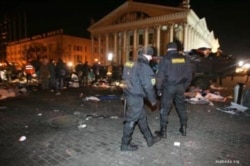 (RFE/RL)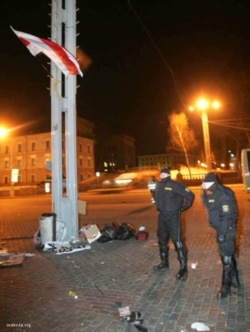 (RFE/RL)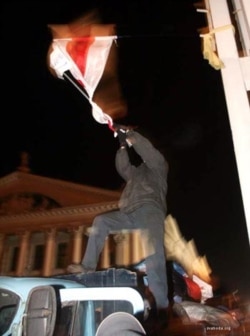 (RFE/RL)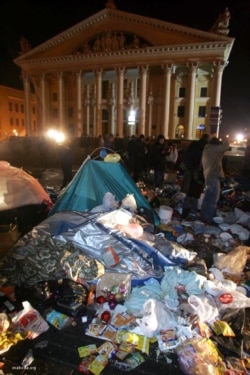 (RFE/RL)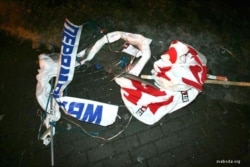 (RFE/RL)
SEE FOR YOURSELF: View a short video clip taken on October Square on the morning of March 21:
Real Audio Windows Media


THE COMPLETE PICTURE: Click on the image to view a dedicated page with news, analysis, and background information about the Belarusian presidential ballot.


COVERAGE IN BELARUSIAN: Click on the image to view RFE/RL's coverage of the election campaign in Belarusian and to listen to RFE/RL's Belarusian Service.