Gunmen Kill Sister Of Iraqi Vice President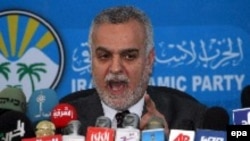 Tariq al-Hashimi speaking to reporters in Baghdad last month (epa) April 27, 2006 -- Iraqi officials say unidentified gunmen killed Maysun al-Hashimi, the sister of Iraqi Vice President Tariq al-Hashimi, in Baghdad today.
Maysun al-Hashimi's bodyguard was also gunned down in the attack. They were traveling in a car at the time of the ambush.
Tariq Al-Hashimi, a Sunni Arab, was appointed on April 22 in efforts to form a unity government. He is the head of the Iraqi Islamic Party.
The latest violence comes after one of his brothers was killed earlier this month.
(AP, Reuters, AFP)