Kyrgyzstan: Authorities Warn Protesters Ahead Of Rally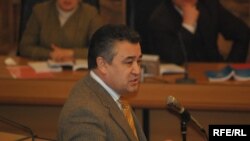 Parliamentary speaker Omurbek Tekebaev is one of the rally's organizers (file photo) (RFE/RL) Civic groups and the political opposition in Kyrgyzstan are making final preparations for a major demonstration in the capital on April 28 to condemn criminal elements in official life. The organizers predict that more than 10,000 people will turn out -- make it one of the biggest political gatherings in Bishkek since the country gained independence in 1991. The prospect has authorities concerned. After all, demonstrations ousted long-time Kyrgyz President Askar Akaev from office little more than one year ago.
PRAGUE, April 28, 2006 (RFE/RL) -- The demonstration is being organized by the Union of Democratic Forces, a coalition of about 50 political parties and nongovernmental groups (NGOs).
The union wants President Kurmanbek Bakiev to fulfill pledges to rid politics of the criminal elements that he admits have taken up positions in public office.
The recent victory in a parliamentary by-election of man widely reputed to have ties to organized crime in Kyrgyzstan lent new momentum to the group's calls. One of that alleged crime boss's biggest critics was later attacked.
Authorities expect a huge crowd and are bracing for trouble. Senior officials tried to defuse the situation with a publicly televised meeting with NGO and opposition leaders on April 19.
"I think the rally will be peaceful. However, if there are any attempts at provocation, then we will take all [necessary] measures. We will use harsh measures against provocateurs, and we will work to ensure that there is no provocation." -- Interior Minister Murat Sutalinov



Mindful that protesters chased his predecessor out of the country in March 2005, President Bakiev warned rally organizers late on April 26 not to provoke trouble.

"Those who are leading [rally preparations] -- [Omurbek] Tekebaev, [Kubatbek] Baibolov, [Temirbek] Sariev, and [Melis] Eshimkanov -- may be held responsible if there is a big conflict," Bakiev said. "We are saying to those who claim there has been no dialogue [between the Kyrgyz government and the opposition]: What else was there besides dialogue a few days ago?"
Organizers Coordinating With Law Enforcement
In an address to parliament on April 27, organizer and parliamentary speaker Omurbek Tekebaev, bristled at the insinuation that demonstrators were planning to cause trouble. He reminded Bakiev of the public's right to peaceful assembly.

"This [warning] shows that the president does not know our laws, he does not know about his direct duties," Tekebaev said. "The president is the guarantor of citizens' rights. It is written in our laws that the government provides security at rallies in order to ensure citizens' rights. [The authorities] are threatening that rally organizers might be held responsible for possible lootings in the city. First and foremost, the president and the government [and] the heads of law-enforcement forces have to be responsible for [security]."

Another organizer, lawmaker Temirbek Sariev, said organizers have set up an informal security force to maintain order. He said they have also coordinated with local law-enforcement agencies to ensure that no violence or lawlessness mars the rally.

"Even at the central square [Alatoo], there will be about 300 unarmed, self-defense team members," Sariev said. "We also agreed with the law-enforcement forces to take joint measures and to jointly maintain security, to patrol there."

Interior Minister Murat Sutalinov told RFE/RL that he doesn't anticipate problems. But he also cautioned that his troops would deal quickly and decisively with anyone causing trouble.

"I think the rally will be peaceful," Sutalinov said. "However, if there are any attempts at provocation, then we will take all [necessary] measures. We will use harsh measures against provocateurs, and we will work to ensure that there is no provocation."

Prime Minister Feliks Kulov sought on April 27 to ease tensions by describing the rally as a healthy sign of political pluralism.

"[The rally] will be held in a normal, democratic way," Kulov said. "No matter what demands they make, I think it's a good sign. If it takes place in a normal way -- which I'm sure it will -- it will prove the maturity of our civil society."

(Tynchtykbek Tchoroev of RFE/RL's Kyrgyz Service contributed to this report.)