Kyrgyz Cabinet Holds Special Meeting On Crime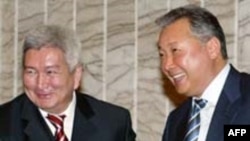 Kyrgyz Prime Minister Feliks Kulov (left) and President Kurmanbek Bakiev (file photo) (AFP) BISHKEK, April 13, 2006 (RFE/RL) -- Kyrgyzstan's cabinet today met in special session to discuss the crime situation in the country following an attack on 12 April on the leader of a prominent NGO, Edil Baisalov.
At the meeting, Deputy Prime Minister Adakhan Madumarov warned that Kyrgyzstan is "on the brink of collapse" and that security, not the economy, should be the government's main concern.
He suggested giving special powers to police to fight organized crime.
The meeting, which was attended by law enforcement officials, resulted in the cabinet ordering the Interior Ministry to identify and neutralize the most prominent criminal groups in the country.
The Interior Ministry has highlighted three groups, two in the north of the country -- around Issyk-Kul and Jumgal – and one in the southern region of Osh.
President Kurmanbek Bakiev has, however, made it clear that he believes there is a broader political motive for the violence.
Prime Minister Feliks Kulov, who chaired the special meeting, said Bakiev had "expressed his utmost concern" at the violence and "said that the attempt on Edil Baisalov's life was aimed at destabilizing the situation in the country and causing harm to the political tandem" of Kulov and Bakiev.

RFE/RL Central Asia Report

SUBSCRIBE For regular news and analysis on all five Central Asian countries by e-mail,
subscribe to "RFE/RL Central Asia Report."