Kyrgyz Election Chief Says Threatened By Candidate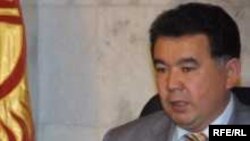 Tuigunaly Abdraimov (file photo) (RFE/RL) BISHKEK, April 11, 2006 (RFE/RL) -- The chairman of Kyrgyzstan's Central Election Commission, Tuigunaly Abdraimov, said he was threatened by Rysbek Akmatbaev, a reputed criminal figure who won a by-election to parliament but is still under investigation for murder.
"Yesterday [April 10], after my press conference was shown [on
television], as I was sitting in the office of Education Minister
Dosbol Nur-uulu, [Rysbek] Akmatbaev called my [mobile] phone and
threatened to kill and destroy me," Abdraimov said. "I knew him by his
voice. However, I need to say that despite such threats, we will act
within the framework of the law."
Abdraimov's allegation comes as the commission is witholding its
official announcement of Akmatbaev's right to claim the seat he won in
the by-election on April 9. Abdraimov said the country's parliament
will have to decide if Akmatbaev can take his seat.
Akmatbaev has been jailed twice for robbery and assault. He was also
acquitted after being accused of killing a policeman. However, the
acquittal is being appealed, meaning Akmatbaev is still officially
under investigation. For that reason, Kyrgyz law says Akmatbaev should
not be able to run for public office.
The election commission already rejected his candidacy once, sparking
protests from Akmatbaev's supporters. A Bishkek city court overturned
the decision and days later, the Supreme Court upheld that decision.
(RFE/RL's Kyrgyz Service)
RFE/RL Central Asia Report

SUBSCRIBE For regular news and analysis on all five Central Asian countries by e-mail,
subscribe to "RFE/RL Central Asia Report."