Kyrgyz Demonstrators Call For Law And Order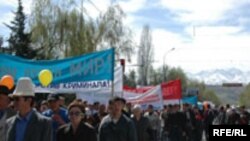 Protesters march towards central Bishkek to call for greater law and order in the country (RFE/RL) BISHKEK, April 8, 2006 (RFE/RL) -- About 2,000 demonstrators today marched into central Bishkek to call on the Kyrgyz government to uphold law and order in the country and put an end to alleged ties between criminal bosses and the Kyrgyz authorities.
The protesters say they also want constitutional and judicial reforms.
The demonstrations were organized by more than 20 political parties and nongovernmental organizations.
They come ahead of elections on April 9 to fill vacant parliament seats in three constituencies.
The demonstrations follow a decision by the country's highest court to allow a controversial businessman to run in one of the parliamentary by-elections. Election officials had initially barred Rysbek Akmatbaev from running, a decision that triggered protests by his supporters.
RFE/RL Central Asia Report

SUBSCRIBE For regular news and analysis on all five Central Asian countries by e-mail,
subscribe to "RFE/RL Central Asia Report."