Al-Dari began by denying reports that the United States has offered him a post in the new Iraqi cabinet.
Harith al-Dari:
I have not been offered any post by anyone, neither by the [U.S.] occupiers nor by anyone else. We do not demand posts. We have not strived and will not strive for them, today as well as before and after, God willing. Concerning our views on the political opening, I think that the political situation has not been eased and will remain as it is.
RFI:
Will the new government manage to lead Iraq out of the swirl of violence?
Al-Dari:
We wish so if [the government] makes steps different from the previous governments, if it is indeed neutral and for all Iraqis, if it follows the correct methods for installing security and a stable situation.
This is what we wish but reality, statements, and attitudes of the leaders of this government have from the very beginning indicated that it will probably not leave the path of the previous governments. That is why we are pessimists on the foreseeable future developments of the situation.
RFI:
Do you see any way out of this crisis?
Al-Dari:
Yes. The way out of the crisis is that the occupiers leave Iraq.
RFI:
[Al-Qaeda in Iraq leader Abu Mus'ab] al-Zarqawi has recently appeared on television screens. What is your comment on al-Zarqawi's threats to Iraq?
Al-Dari:
I have no comment on this. The issue is beyond our agenda and the area of our own particular concerns.
(Translated by Petr Kubalek)
Nuri al-Maliki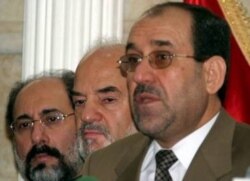 Nuri al-Maliki (epa)

NURI KAMIL AL-MALIKI (Jawad al-Maliki is a nom de guerre) was born in 1950 in the Twayrij al-Hindiyah district of Karbala.
Commonly known as Abu Isra, al-Maliki joined the Islamic Al-Da'wah Party in 1968.
He holds an M.A. in Koran and Arabic Language Studies from Salah al-Din University in Irbil.
Following a crackdown on outlawed parties by the regime of Saddam Hussien, al-Maliki fled the country in 1980, seeking asylum first in Iran and later in Syria.
While in Syria, he also published a magazine -- "Al-Mawqif" ("The Attitude") -- that became the mouthpiece of the Islamic Al-Da'wah Party.
For several years, al-Maliki served as the head of jihad and military operations for the party, subsequently becoming a member of its political bureau.
Following the liberation of Iraq, he served as deputy director of the de-Ba'athification commission established by the Coalition Provisional Authority.
In 2004, al-Maliki was elected deputy speaker of the interim National Assembly.
He played a leading role in settling the August 2004 crisis in Al-Najaf when supporters of Shi'ite cleric Muqtada al-Sadr battled coalition forces for three weeks.
In 2005, he served as chairman of the transitional National Assembly's Security and Defense Committee. He was also a member of the committe responsible for drafting Iraq's new constitution.
He has also served as a spokesman for transitional Prime Minister Ibrahim al-Ja'fari and as spokesman for the United Iraqi Alliance.
More about al-Maliki:
Premier-Designate Promises Tough Approach
Tough Challenges Face New Prime Minister


THE COMPLETE PICTURE: Click on the image to view RFE/RL's complete coverage of events in Iraq and that country's ongoing transition.