U.S. Defends Rights Record In War On Terror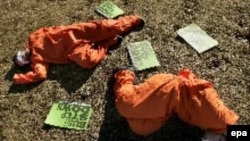 Two protesters pose as tortured detainees outside the U.S. Capitol in Washington, D.C., in January (epa) May 5, 2006 -- The United States today pledged never to carry out or condone torture as the United Nations opened its first public examination in Geneva of the U.S. record on its treatment of detainees seized in its war on terror.
Human rights groups allege that U.S. troops and intelligence agents have abused terror suspects held abroad since the September 11, 2001, attacks on New York and Washington.
Top U.S. human rights official Barry Lowenkron told the 10-member UN Committee on Torture that U.S. law and treaty obligations prohibit torture.
He also suggested that the United States complies with standards higher than laws and treaties, saying that the United States is "fulfilling a higher moral obligation which our nation has embraced since its earliest days."
(Reuters, AFP)