UN Says Russia Offers Better Prison Access Than U.S.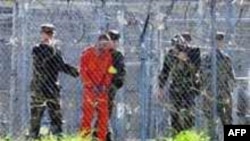 An inmate at the U.S.-run Guantanamo Bay detention center in Cuba (file photo) (AFP) March 30, 2006 -- The United Nations' special investigator on torture says Russia offers outside observers better access to its prisoners than the U.S does.
Manfred Nowak said he had received an invitation from Moscow to visit Russian detention centers, including in the breakaway republic of Chechnya.
He contrasted that with a U.S. refusal to provide the UN with unhindered access to detainees in Guantanamo Bay, Cuba.
Nowak said his visit to Chechnya was likely to take place later this year. It would be the first by a UN torture envoy in more than a decade.
(AP, Reuters)