PRAGUE, May 5, 2006 (RFE/RL) -- HRW said in a statement published today that Jahanbegloo's arrest shows the perilous state of academic freedom and free speech in Iran.

Iranian authorities have said that the Sorbonne- and Harvard-educated Jahanbegloo is being held at Tehran's notorious Evin prison, where many of Iran's political prisoners are kept.
A 'History Of Arbitrary Arrests'

HRW spokesman Hadi Ghaemi told RFE/RL that his organization is concerned about the fate of Jahanbegloo and holds the Iranian government responsible for his well-being.

"Human Rights Watch condemns the arbitrary arrest of Dr. Ramin Jahanbegloo," Ghaemi said. "If we look at the history of arbitrary arrests in Iran and the treatment of detainees, we see that it is very shocking, because detainees are put under intense physical and psychological pressure so that they make false confessions. We call on the Iranian government to stop the harassment of social and cultural activists and academics."

Jahanbegloo heads the department for contemporary studies at Iran's Cultural Research Bureau. He was reportedly arrested at Tehran's international airport in late April.

Jahangegloo was due to visit Hungary on May 3 to attend a gathering of philosophers. The Hungarian Academy of Sciences (MTA) said in a statement on May 4 that Jahangegloo was arrested on April 27.

The Hungarian academy has asked that "the scientific activities of Ramin Jahanbegloo not be limited by restrictions on his freedom."
No Confirmation Of Charges

Iran's judiciary confirmed Jahanbegloo's arrest on May 3 without specifying the charges. The same day, an unnamed Iranian official told Fars News Agency that Jahanbegloo was being held for espionage and security charges.

One day later, one of Tehran's conservative dailies accused Jahanbegloo of having ties to monarchists and other "counterrevolutionary groups." They are accusations that frequently accompany the detention of political opponents of Iran's ruling elite.

Karim Lahidji is the deputy director of the International Federation of Human Rights and director of the League in the Defense of Human Rights in Iran. A long-time friend of Jahanbegloo's, he described the charges as "ridiculous."

Lahidji told RFE/RL that the detention is a sign of deteriorating human rights conditions under the administration of hard-line President Mahmud Ahmadinejad.

"During all the years [Jahanbegloo] has lived in Iran, he has focused on research and scientific activities, and he didn't have any political activity," Lahidji said. "I think the arrest of Ramin Jahanbegloo is the continuation of other arbitrary arrests in recent months -- like the arrest of [lawyer and cofounder of the Tehran-based Center of Human Rights Defenders] Abdolfatah Soltani and all the others who are active in the domain of freedom of thought -- journalists, webloggers, syndicalists, and even bus drivers who merely wanted their salaries."
Administration Opponent?

Reporters Without Borders (RSF) said today in a statement that Jahanbegloo was arrested after criticizing the Ahamdinejad government in a series of recent interviews for Canadian, Spanish, and French newspapers. The group pointed to comments in the French daily "Le Monde" on April 27.

Jahanbegloo reportedly holds Canadian citizenship, and his detention is being closely watched in Canada.

Some Canadian newspapers have suggested that he was arrested based on his comments in the Spanish daily "El Pais," in which he challenges Ahmadinejad's view that the Holocaust is "a myth."

On May 4, Iranian Culture Minister Mohammad-Hossein Saffar-Harandi said he was trying to determine the reason for Jahanbegloo's arrest through "legal channels." But he added a defense of Iranian actions, saying that "in Iran's current system, nobody gets arrested because of his belief or comments."

Ramin Jahanbegloo is the most prominent Iranian intellectual to have been arrested since Ahmadinejad's election in June.

On May 3, a prominent liberal cleric in Iran, Mohsen Kadivar, was quoted as saying that the arrest represents the "height of lawlessness and insecurity" in Iran.

Jahanbegloo has published more than 20 books in English, Persian, and French on subjects that include modernity in Iran and Indian independence leader Mahatma Gandhi and his nonviolent method of resistance.
Ramin Jahanbegloo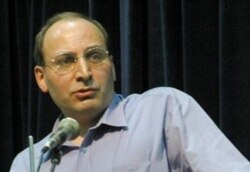 Ramin Jahanbegloo speaking in Tehran in 2004 (AFP)

THE FOURTH WAVE: In late April, it was announced that the Iranian authorities had arrested noted intellectual RAMIN JAHANBEGLOO. Jahanbegloo is a professor of philosophy in Iran and Canada and is the author of more then 20 books, including "Moje Chaharom" ("The Fourth Wave"). In November 2004, Radio Farda correspondent Fatemeh Aman interviewed Jahanbegloo about the current generation of Iranian intellectuals and its distinctive features.
Radio Farda: It seems that in your book you see a unique status and mission for the fourth generation in the process of progress and democratization in Iran. Why is that and what are the most important characteristics of this generation of intellectuals?
Ramin Jahanbegloo: The fourth generation is distinct from former ones for several reasons. First this is a democratically minded generation that cares about democratic values. This generation has a political approach toward these values and, importantly, it is heavily colored by the active presence of women. The other distinct feature of this generation is its belief in modernity. This modernity is not an imitation one, but rather is based on discourse. If in the past many thought they can become modern by imitating the Western way of life, today's intellectuals know that the real route to modernity is by understanding the modern world in the West and channeling this thought process into social, cultural, and political institutions....(more)

RELATED ARTICLES
Rights Advocate Calls Scholar's Arrest A Troubling Sign
Rights Groups Demand Scholar's Release
Iranian Activists Fear Looming Crackdown
ARCHIVE
For an archive of all of RFE/RL's coverage of Iran, click here.