Bush Chooses General As CIA Nominee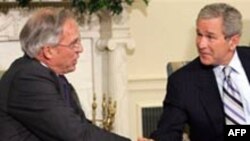 Former CIA chief Porter Goss (pictured) resigned on May 5 (AFP) May 8, 2006 -- U.S. President George W. Bush today named Air Force General Michael Hayden as his candidate to head the CIA.
"Mike has more than 20 years of experience in the intelligence field," Bush said. "He served for six years as the director of the National Security Agency and, thus, brings vast experience leading a major intelligence agency to his new assignment."
If confirmed by the U.S. Senate, Hayden would replace Porter Goss, who resigned as CIA head on May 5 after less than two years on the job.
Lawmakers, including some from Bush's Republican party, have expressed concern about Hayden, saying a military officer should not lead a civilian agency like the CIA.
(AP, "The New York Times")