PRAGUE, May 10, 2006 (RFE/RL) -- President Ahmadinejad is visiting Indonesia as his country is facing increased Western attempts to isolate it from the rest of the world because of its controversial nuclear program.
His willingness to travel abroad as the crisis sharpens indicates how much he hopes for worthwhile results from the visit to the largest Muslim nation in the world.
Looking For Support
Analyst Shannon Kile of the Stockholm International Peace Research Institute says Ahmadinejad's trip is clearly connected to what is happening at the United Nations, where the United States, Germany, Britain, and France are pressing hard for a UN Security Council resolution that would legally bind Iran to drop uranium enrichment against the threat of economic sanctions or military intervention. As a consequence, the Iranians are courting Jakarta.
"Indonesia is an important player in the Non-Aligned Movement, the so-called NAM group of states, and Iran for quite a while has been cultivating the NAM states, countries like Indonesia and Malaysia, in terms of building support for its position on its nuclear program," Kile said.
"Presumably, Iran is looking also for Indonesia to invest in Iranian oil and gas, because Iran's gas and oil sector have suffered from chronic underfunding for a long time because of Western sanctions." Shannon Kile, Stockholm International Peace Research Institute
At a press conference in Tehran before his departure, Ahmadinejad used effusive language to describe the possibilities for Iranian-Indonesian relations.
"The capabilities of the two nations provide extensive grounds for mutual cooperation," he said. "We know of no boundaries whatsoever for cooperation with Indonesia, whether it be in the cultural, scientific, political, technical, or economic fields. In this trip seven draft agreements for cooperation will be, God willing, finalized and signed, and this will open up new horizons."
Analyst Kile says specifically that Ahmadinejad is seeking a statement of support from Indonesia that says Iran -- as a party to the Nuclear Non-Proliferation Treaty (NPT) -- does have a legal right to the full nuclear fuel cycle, including uranium enrichment.
Uranium enrichment is the step that the West wants to prevent Iran from taking, because it can provide material for nuclear bombs as well as fuel for nuclear power stations.
Double Standard Alleged
But in Jakarta today, Ahmadinejad described Western allegations that Iran is seeking to build nuclear weapons as a untrue.
"[The U.S. and their allies are] themselves engaged in nonpeaceful nuclear activities," he said. "They expand them day by day. Another indication of that is that in the Middle East region they have equipped some powers and some groups with nuclear weapons, and they themselves test new types of weapons of mass destruction every day."


Indonesian President Susilo Bambang Yudhoyono appears to have gone some way towards meeting Ahmadinejad's wishes, when he said today that he believes Iran's nuclear program is peaceful and that all problems can be solved through diplomacy.
Kile says Iran is trying -- with some success -- to shift the terms of the debate away from the issue of nuclear proliferation and to one about who has the right to control access to advanced technology, including nuclear technology.
"What the Iranians are arguing is that this [dispute to deny enrichment to Iran] is yet another example of a discriminatory double standard employed by the Western industrial countries; and I think that argument has actually found some resonance in places like Indonesia and Malaysia," Kile said.
Of course Yudhoyono has to tread carefully so as not to inflame radical Islamic elements at home. The last thing he would want to do is to lend support to the fundamentalist Islamic regime in Tehran at the cost of fanning radicalism in his own nation.
Enhanced Economic Relations
While in Indonesia, Ahmadinejad is holding talks with Yudhoyono and other political and economic leaders, as well as with cultural and Islamic religious figures.
Energy cooperation is expected to be discussed. The Indonesian Foreign Ministry last month said Iran is considering investing $600 million in Indonesia's oil and gas sector. Kile says the Iranians will be hoping for similar investments from Malaysia.
"Presumably Iran is looking also for Indonesia to invest in Iranian oil and gas, because Iran's gas and oil sector have suffered from chronic underfunding for a long time because of Western sanctions -- especially U.S. sanctions -- presumably that is going to go both ways," he said.
Aware of Iran's economic troubles, the European Union's negotiating troika of Britain, France, and Germany is reportedly preparing a new package of incentives to be offered to Iran if it halts uranium enrichment. The document, which could be prepared as early as May 15, is also expected to list consequences for Iran if it does not halt enrichment.
Ahmadinejad is scheduled on May 12 to attend a summit of eight leading developing countries (the D-8) on Indonesia's island of Bali.
The D-8 countries are: Pakistan, Bangladesh, Egypt, Indonesia, Iran, Malaysia, Nigeria, and Turkey.
IAEA Final Resolution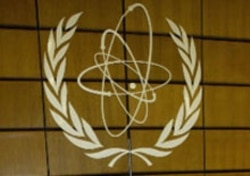 READ
On 4 February, the Board of Governors of the International Atomic Energy Agency approved in a 27-3 vote a resolution to report the matter of Iran's nuclear program to the United Nations Security Council. The key section of the resolution is Section 1, which states that the Board of Governors:
Underlines that outstanding questions can best be resolved and confidence built in the exclusively peaceful nature of Iran's program by Iran responding positively to the calls for confidence-building measures which the Board has made on Iran, and in this context deems it necessary for Iran to:
reestablish full and sustained suspension of all enrichment-related and processing activities, including research and development, to be verified by the Agency;
reconsider the construction of a research reactor moderated by heavy water;
ratify promptly and implement in full Additional Protocol;
pending ratification, continue to act in accordance with the provisions of the Additional Protocol with Iran signed on 18 December 2003;
implement the transparency measures, as requested by the Director General, which extend beyond the former requirements of the Safeguards Agreement and Additional Protocol, and include such access to individuals, documentation relating to procurement, dual use equipment, certain military-owned workshops and research and development as the Agency may request in support of its ongoing investigations.
COMPLETE TEXT: To read the final resolution, with late-hour changes highlighted, click here.

THE COMPLETE PICTURE: RFE/RL's complete coverage of controversy surrounding Iran's nuclear program.