British Attorney General Calls For Guantanamo's Closure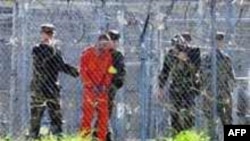 Lord Goldsmith said the existence of Guantanamo's detention center is "unacceptable" (file photo) (AFP) May 10, 2006 -- British Attorney General Lord Goldsmith today said that the U.S. prison facility at Guantanamo Bay, Cuba, discredits the American tradition of freedom and should be shut down.
Goldsmith said Guantanamo's existence is "unacceptable."
The United States uses the Guantanamo facility to hold and interrogate terrorism suspects. The facility has long been criticized by rights advocates.
(AP)