UN Concludes U.S. Has Tortured Guantanamo Detainees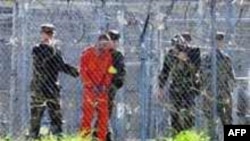 In the report, the UN urges the United States to close its Guantanamo Bay detention facility (file photo) (AFP) 13 February 2006 -- Reports say a UN investigation has concluded the United States committed acts amounting to torture at its terrorist suspect detention facility in Guantanamo Bay, Cuba.
The AP said today that a draft of the report it had obtained accused the United States of violating the detainees' rights to a fair trial, freedom of religion, and health.
The report urged the United States to close the facility at Guantanamo Bay and ban special interrogation techniques authorized by the U.S. Defense Department.
U.S. officials rejected the report, saying it was riddled with errors and treated statements from detainees' lawyers as fact.
The United States holds about 500 people on suspicion of links to Al-Qaeda or Afghanistan's ousted Taliban government at the base in Guantanamo.
(AP)