Bush Signs Law Banning Torture Of Detainees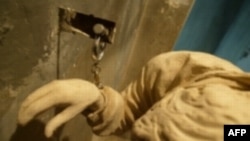 Statue in Iraq of a Kurd being tortured (file photo) (AFP) 31 December 2005 -- U.S. President George W. Bush has signed into law legislation that prohibits U.S. personnel from inflicting cruel or degrading punishment on any prisoner in U.S. custody.
The provision is part of a $453 billion defense spending bill that Bush signed on 30 December.
The president agreed to the wording of the bill banning torture after lawmakers from his own Republican Party and the opposition Democrats overwhelmingly backed the move. The legislation comes in the wake of allegations that U.S. personnel have mistreated of suspects in the so-called war on terror.
The bill also includes $50 billion to continue U.S. military operations in Iraq and Afghanistan.
Bush also signed on 30 December a bill extending until 3 February the United States' main anti-terrorism law, the Patriot Act. In January, lawmakers are expected to debate again whether the law adequately protects privacy and other civil liberties.
(Reuters/AP/AFP/dpa)