Russia Slammed For Ambivalence About Homophobic Violence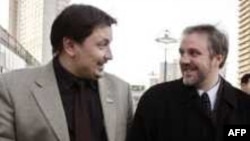 Eduard Murzin (left) and Mishin Eduard, two gay men living in Moscow (file photo) (AFP) PRAGUE, May 15, 2006 (RFE/RL) -- The head of Europe's main human rights body has condemned Russia over recent attacks targeting homosexuals and is calling on the authorities to prosecute those responsible.
The Council of Europe's secretary-general, Terry Davis, say the homophobic violence in recent weeks has been "neither isolated nor spontaneous."
Meanwhile, Russian gay activists say they are determined to hold a march in Moscow on May 27 to defend the rights of sexual minorities in Russia "whatever the response from the authorities."
Moscow Mayor Yury Luzhkov has justified his opposition to the march by saying most people oppose "these public expressions of sexual tendencies."