U.S. Normalizes Relations With Libya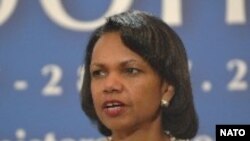 U.S. Secretary of State Condoleezza Rice (file photo) (NATO) May 15, 2006 -- The United States is restoring full diplomatic relations with Libya and will remove the North African nation from its list of state sponsors of terrorism.
The U.S. State Department said the moves are the result of Tripoli's decision in 2003 to renounce terrorism and abandon its weapons of mass destruction programs. In a statement, Secretary of State Condoleezza Rice said Libya has begun to reemerge into the "mainstream of the international community."
U.S. Assistant Secretary of State David Welch spoke to reporters today about the decision.
"We believe that having a full diplomatic relationship with Libya will give us the best opportunity to expand our engagement and will let us more effectively press our case on the issues of concern between us," he said.
Tripoli has welcomed the announcement, with Foreign Minister Abdel Rahman Shalgham hailing "a new page" in relations with the United States.
The move comes a quarter century after diplomatic relations were severed following the 1979 sacking of the U.S. Embassy in Tripoli by protesters. In 1986, alleged Libyan-backed terrorist attacks spurred the United States to launch air raids against Tripoli.
(Reuters, AP, AFP, dpa)