Slovenia To Introduce Euro In 2007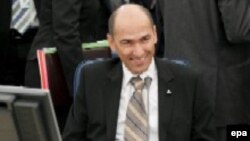 Slovenian Prime Minister Janez Jansa (file photo) (epa) BRUSSELS, May 16, 2006 (RFE/RL) -- Slovenia today became the first new EU member state to get the green light to join the EU's common currency, the euro.
Meeting in Strasbourg, the European Commission ruled the country meets all the necessary criteria and can adopt the euro as of January 1, 2007.
The Commission turned down the application of a second candidate for early entry, Lithuania, saying the country's inflation is too high.