France recognized the killings as genocide five years ago. Under the proposed new bill, denying the genocide would be punishable by a year in prison and a fine of 45,000 euros (more than $57,000)
Turkey has always denied the genocide assertions, saying the Armenians died in civil unrest.
Earlier today, French Foreign Minister Filippe Douste-Blazy told lawmakers that adoption of the proposed bill would have "serious political consequences."

"If the text [of the draft bill] presented to you today was to be adopted it would be considered as an unfriendly gesture by a vast majority of the Turkish people," Douste-Blazy said. "This would inevitably have serious political consequences and weaken our influence not only in Turkey itself but also beyond, in the whole region."

Turkish Prime Minister Recep Tayyip Erdogan had warned that the passage of the bill would further damage already strained relations between the two countries.
Turkey's policy over the deaths of up to 1.5 million Armenians between 1915 and 1919 is seen as being at odds with its bid to join the European Union.
(AP)
Examining History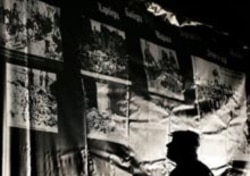 CALL IT GENOCIDE? Questions surrounding the mass killings of Armenians at the beginning of the last century continue to dominate relations between Armenia and Turkey. In April, Ankara proposed conducting a joint Armenian-Turkish investigation into the mass killings and deportations of Armenians during World War I.
Turkish leaders suggested that the two countries set up a joint commission of historians to determine whether the massacres carried out between 1915 and 1917 constituted genocide. Armenia, however, insisted it would continue to seek international recognition and condemnation of what it says was a deliberate attempt at exterminating an entire people....(more)
See also:
Armenians Mark 90th Anniversary Of Start Of Massacres
Armenia: Tragedy Remains On Europe's Political Map
ARCHIVE: For a complete archive of RFE/RL's coverage of Armenia, click here.