NATO Burnishes Its Image In Russia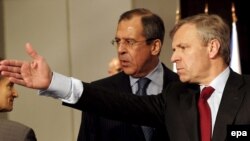 NATO Secretary-General Jaap de Hoop Scheffer (right) with Russian Foreign Minister Sergei Lavrov (file photo) (epa) May 18, 2006 -- NATO Secretary-General Jaap de Hoop Scheffer says the alliance wants to change Russians' perceptions of their former Cold War adversary.
Speaking via a video link from Brussels, he told a Moscow conference that "building a bridge of trust and cooperation" between Russia and NATO was a shared "strategic goal."
He also said NATO's expansion, which is viewed with suspicion in Moscow, is not aimed against Russia.
He said former Soviet republics Ukraine and Georgia should be free to join the alliance, but said they would have to meet NATO standards to do so.
The video linkup was part of a promotional campaign, dubbed "NATO-Russia Rally 2006: What Binds Us Together." The two-week campaign, which started on May 11, consists of a series of events in several Russian cities.
Some of the events have been disrupted by small groups of mainly communist or nationalist protesters.
(AP, AFP)