The meeting -- which took place behind closed doors -- provided EU lawmakers with a rare opportunity to quiz the Russian minister on a range of questions important to EU-Russian relations and current international issues. At least one participant at the meeting suggested there are a number of issues on which the two sides do not agree.
The fact that the meeting was held behind closed doors -- something that is unusual for the European Parliament -- indicates the two sides were keen to avoid publicizing their differences.
After the morning's question-and-answer session, Lavrov gave a brief overview of what he had talked about: "I also shared our views and answered questions regarding developments in Russia, regarding our assessment of the situation in countries located close to both Russia and the European Union, our position on the Middle East problem, on the Iranian nuclear issue, and answered many questions about human rights, about our relations with the Baltic states."
Lavrov said the meeting also considered the longer-term future of the EU-Russia relationship after their current Partnership and Cooperation Agreement runs out in 2007.
Energy Security
Elmar Brok, the chairman of the European Parliament's foreign affairs committee, said energy security was also discussed.
An EU source told RFE/RL on condition of anonymity that Lavrov had assured his audience that energy cooperation with the EU remains a top priority for Russia, and that both sides are mutually interdependent.
He did not, however, address outstanding questions between the EU and Russia on how much market access to grant each other.
The EU source said Lavrov also defended Russian policies on Moldova and Belarus and rejected criticisms of his country's rights record.
Belarus
On Belarus, Lavrov said the country remains an "ally and a friend" for Russia, and that dialogue is the only acceptable way of dealing with Minsk.
His comment came as the European Union is considering whether to impose an assets freeze on Belarusian President Alyaksandr Lukashenka and other top officials in response to the country's flawed presidential election in March.
Lavrov also said that despite Russian attempts to improve relations, Moldova has neglected to meet its obligations with regard to Transdniester. He said Chisinau has broken off dialogue and demands a solution under which it remains a unitary state.
Lavrov said the EU is displaying "double standards" by siding with Moldova, and cited the case of Cyprus, where the EU supports a far looser future arrangement between the two sides.
NGOs
According to the EU source, Lavrov rejected criticism of the recent tightening of Russia's legislation on nongovernmental organizations. He said Russian requirements for NGO registration are no stricter than those in a number of EU member states. Lavrov also noted Russian authorities require far less background information to register an NGO than their counterparts in the United States.
Lavrov also said that while Moscow subscribes to the notion of universal human rights, it believes their application depends on local circumstances and therefore differs from country to country.
The Russian foreign minister brushed off charges that Moscow remains unwilling to conclude border treaties with two new EU member states, Estonia and Latvia. He said the two countries had reneged on an initial agreement not to attach unilateral political declarations to the treaties -- making it impossible for Russia to proceed.
Lavrov also attacked a number of resolutions adopted by the European Parliament on the situation of the Russian-speaking minorities in Estonia and Latvia. He said the declarations -- which Russia sees as biased -- are based on impartial and outdated information and fail to tackle such fundamental issues like the social and political rights of the minorities.
Lavrov also sharply condemned what he said were Latvian restrictions on the celebrations organized by Red Army veterans to commemorate the Soviet victory over Nazi Germany on May 9.
Lavrov also spoke out against isolating countries such as Belarus and Iran. He warned that, if isolated, Iran could turn into "a new North Korea." Lavrov did add, however, that Russia does not support the emergence of new nuclear-capable countries.
Russia And The West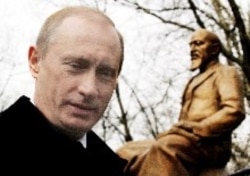 (epa)
COOPERATION, CONFLICT, CONFRONTATION: Relations between Russia and the West are notoriously volatile. "To see the kind of relationship that presidents Bush and Putin have developed and to see Russia firmly anchored in the West, that's really a dream of 300 years, not just of the post-Cold War era," then-national security adviser Condoleezza Rice said in May 2002.
But observers have increasingly called into question the extent of the shared values between Russia and the West, particularly on issues relating to the transformations going on in other former Soviet countries.
RELATED ARTICLES
Silent Diplomacy Versus Public Criticism
Analysts Say New Arms Race Unlikely
Moscow 'Unhappy' With Outcome Of CFE Conference
Moscow And Washington Spar Over WTO Membership
Russia Gears Up To Improve Its Image Abroad
Experts Urge U.S. To Rethink Relations With Russia
U.S. Official Says Russian NGO Law Part Of Antidemocratic Trend
ARCHIVE
To view an archive of RFE/RL's coverage of Russia, click here; to view an archive of RFE/RL's coverage of U.S.-Russian relations, click here.

SUBSCRIBE
For news and analysis on Russia by e-mail, subscribe to "RFE/RL Russia Report."