CIA Director Nomination Hearings Under Way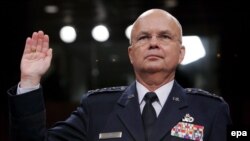 CIA director-nominee Michael Hayden is sworn in at the start of his confirmation hearing before the Senate Select Committee on Intelligence in Washington, D.C. today (epa) May 18, 2006 -- U.S. President George W. Bush's nominee to direct the Central Intelligence Agency, the CIA, is facing a Senate confirmation hearing today in Washington.
General Michael Hayden, the former chief of the U.S. National Security Agency (NSA), was chosen to head the agency after the resignation of Porter Goss two weeks ago.
In his comments to a Senate committee, Hayden acknowledged a series of intelligence failures in the run-up to the war in Iraq, and promised to take steps to prevent similar errors. He said the CIA needs to restore public trust.
Hayden also defended his decisions in overseeing the administration's domestic telephone surveillance program, and insisted that the program is legal. He is expected to face tough questioning over his leadership in the domestic surveillance program.
(AP, AFP, Reuters)