Russia's population is declining by about 700,000 people per year, and has dropped from 150 million since the 1992 census to just over 142 million today.
If left unchecked, demographers estimate that Russia's population could fall to fewer than 100 million people by 2050.
Federation Council Chairman Sergei Mironov -- who heads Russia's Party of Life, a party whose platform is largely based on resolving the demographic crisis -- this week provided even more staggering numbers, estimating that Russia might have only 52 million people by 2080 if urgent measures are not taken.
Fears over potential consequences are wide-ranging -- that the country won't be able to generate enough young men to fill the ranks of its military, that the economy will not be able to sustain itself, and that immigration could drastically alter the country's ethnic and religious makeup.
Baby Steps
In response to the public's growing concerns over population losses, Putin prioritized the steps the state must take to rectify the problem.
"First a lower death rate; second, and efficient migration policy; and third, a higher birthrate," Putin told the nation during his address.
Russia has a birthrate of about 9.95 per 1,000 people, compared to about 14 per 1,000 in the United States, and 8.3 per 1,000 in Germany. But the crux of the matter lies in the country's death rate. While the United States has a death rate of 8.2 per 1,000 people, and Germany 10.6, Russia posts an alarming 14.65 deaths per 1,000 population.
The only former Soviet states with comparable figures are fellow Slavic states Ukraine (8.81 births/14.3 deaths per 1,000) and Belarus (11.1 births/14 deaths). The populations of states in Central Asia and the Transcaucasus, meanwhile, are booming. Kazakhstan, for example, is recording 16 births per 1,000 people and a death rate of 9.42 per 1,000, while Turkmenistan boasts a birthrate of 27.6 per 1,000 and a death rate of 8.6 per 1,000.
While many countries manage to make up for demographic problems by attracting immigrants to buttress their populations, Russia is posting a deficit in this regard as well. Only about 70,000 immigrants enter Russia per year, while about 100,000 leave the country.
Following the presidential address, Communist Party of Russia leader Gennady Zyuganov commented on the urgency of the situation.
"From the point of view of content, [Putin's address] was more realistic, more specific," Zyuganov said. "The main theme is that the country is losing its population. It has lost 10 million people in 15 years, of whom 9 million are Russians. The preservation of the people is such a crying problem that it cannot be avoided."
Future Workforce
Partly due to the very low life expectancy in the country (67.08 years overall; 60.45 for men, 74.1 years for women), the death rate particularly hits Russia's workforce. Specialists have calculated that the country's working-age population will decline by as much as 15 percent between 2005-15.
This, in turn can have a huge impact on the country's economic situation, which is a major factor in people's decisions to have offspring.
As Putin described it, low incomes, lack of housing, and doubts about the ability to adequately provide education, medical care, and even food can deter potential mothers from having children.
"When planning to have a child, a woman is faced with the choice whether to have a child but lose her job, or not to have a child," Putin said during his address. "This is a very difficult choice. The encouragement of childbirth should include a whole range of measures of administrative, financial, and social support for young families."
As an incentive to increase the birthrate, Putin, ordered parliament to double child-support payments to 1,500 rubles ($55) per month and added that women who choose to have a second baby will receive a one-time payment of 250,000 rubles ($9,200).
Immigration Effort
Another solution outlined by Putin was to continue attracting "our fellow countrymen from abroad," saying it is necessary to encourage "qualified migrants, people who are educated, and who obey the law."
He followed this up by noting that "people coming to settle in Russia should treat Russian culture and our national traditions with respect."
This was an apparent nod to the growing voice of nationalists in Russia concerned with the declining population of ethnic Russians. Such concerns have contributed to racism and anti-immigrant passions in Russia, and have fueled the rising popularity of the "Russia for Russians" rally cry.
Putin conceded that the measures outlined in his speech were merely the first steps toward alleviating the demographic crisis, and that further remedies are on the way.
It is obvious that increasing the birthrate and promoting immigration is not going to be enough. Huge obstacles will remain, including:
The country's deteriorating health-care system;
The country's alcohol dependency. In 2005 some 35,000 Russian citizens died of alcohol-related causes;
The unchecked spread of HIV/AIDS. By 2006 the number of registered HIV-positive Russian citizens stood at 350,000, while estimates of the actual numbers of those infected with the virus run up to 1.5 million. Most sufferers are young people, the very segment the country depends on to sustain its future population;
The country's tremendous abortion rate. An estimated 1.6 million women had abortions in 2004 year, 20 percent of whom were under the age of 18. This compares to 1.5 million women who gave birth, according to Vladimir Kulakov, vice president of the Russian Academy of Medical Sciences, the "Moscow News" reported on August 23, 2005;
A high infant-mortality rate. Russia currently records 15 deaths per 1,000 live births. This compares to 6.43 per 1,000 in the United States, 7.22 per 1,000 in Poland, and just 4.12 deaths per 1,000 live births in Germany.
Russia's Changing Face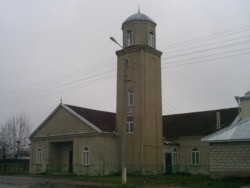 A mosque in Baksan, in the Russian Republic of Kabardino-Balkaria (RFE/RL)
THE COMING MUSLIM MAJORITY: On February 28, Russia expert PAUL GOBLE, vice dean of social sciences and humanities at Concordia-Audentes University in Tallinn, Estonia, gave a briefing at RFE/RL's Washington office. Goble said ethographers predict Russia will have a Muslim majority "within our lifetime." Since 1989, Russia's Muslim population has increased by 40 percent, Goble said, rising to some 25 million self-declared Muslims. He said 2.5 million to 3.5 million Muslims now live in Moscow, gving Moscow the largest Muslim population of any city in Europe. Russia today has more than 8,000 mosques, up from just 300 in 1991. By 2010, experts predict, some 40 percent of Russian military conscripts will be Muslims.
Goble noted that these changes have been accompanied by a "rising tide" of anti-Muslim prejudice. Public-opinion surveys reveal that up to "70 percent of ethnic Russians" express sympathy with xenophobic slogans. Goble warned that heavy-handed state efforts to "contain Islam" could backfire and cause groups to move underground, "radicalizing people who are not yet radicalized."
LISTEN
Listen to the entire briefing (about 85 minutes):
Real Audio
Windows Media
See also:
Muslims Oppose Bill To Add Chaplains To Army
Russia: Muslims Upset By State Symbols
Russia's Muslims Move Toward Greater Unity
Rights Groups Say Muslims Are Unfairly Targeted In Fight Against Terrorism
THE COMPLETE PICTURE: To view an archive of all of RFE/RL's coverage of Russia's North Caucasus, click here.

A thematic webpage devoted to issues of religious tolerance in RFE/RL's broadcast region and around the globe.