Guantanamo Inmates Attack U.S. Guards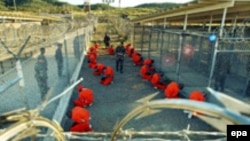 Guantanamo Bay detainees in a holding area under the eye of U.S. military police (file photo) (epa) May 19, 2006 -- Inmates at the U.S. detention facility in Guantanamo Bay in Cuba have attacked guards with fans and light fixtures.
The U.S. Defense Department says the attack, on May 18, was quelled with minimum force.
The unrest followed unsuccessful attempts by four inmates to kill themselves. Three took overdoses of prescription medicine, and the fourth tried to hang himself.
Some 460 terrorist suspects are being held at the Guantanamo detention center.
(dpa, AP, AFP)