Speaking in Tashkent on May 9 at a ceremony to commemorate the Soviet victory in World War II, President Karimov listed the countries that are now the highest priorities for Uzbekistan's foreign policy, UzA reported.
"We have signed an alliance treaty with Russia," he said. "Moreover, our people, and particularly our young people, need to realize that our agreements to deepen friendly, mutual cooperation with such great nations as China, South Korea, India, and Pakistan represent major steps on Uzbekistan's path toward stability and progress."

Signaling Change

Karimov was expanding on comments he made on May 25, 2005, in the immediate aftermath of the bloody events in Andijon.
Speaking in Tashkent before his departure for a visit to China -- where Karimov would enjoy a warm reception against a backdrop of Western calls for an international investigation of reports that Uzbek security forces perpetrated a massacre in Andijon -- the Uzbek president touted burgeoning relations with Russia, an upcoming visit to Uzbekistan by India's president, good ties with South Korea and, of course, planned agreements with China promising, according to Karimov, up to $1.5 billion in Chinese investments in Uzbekistan within five years.

The visit to China -- which resulted in an agreement on a $600 million oil joint venture and came as an important symbolic statement that Western condemnation would not isolate Uzbekistan -- was only the beginning of an Uzbek foreign-policy push along the lines Karimov suggested in his remarks before he left for Beijing.

Russia...And Friends

The most prominent example of Uzbekistan's push for post-Andijon friends is, of course, Russia. In November 2005, Russia and Uzbekistan signed a treaty that provides for mutual military assistance in the event of "aggression." State-controlled Russian gas company Gazprom and Kremlin-friendly oil company LUKoil have committed themselves to billion-dollar deals in Uzbekistan's energy sector. Most recently, Gazprom announced that it plans to expand the throughput capacity of the Central Asia-Center pipeline, which runs through Uzbekistan, from 50 billion to some 70 billion cubic meters a year.

The current year has witnessed Uzbek initiatives to boost ties with Pakistan, South Korea, and India.


In late March, Karimov visited South Korea. South Korea is the largest investor in the Uzbek economy, RFE/RL reported on March 28, but mixed experiences in Uzbekistan in recent years have led South Korean companies to look elsewhere. Karimov's visit -- which was apparently intended to restore South Korean investors' confidence -- bore modest fruit in the form a memorandum of understanding for South Korea's National Oil Corporation and Korea Gas Corporation to explore and possibly develop two oil and two gas fields in Uzbekistan.
In late April, Indian Prime Minister Manmohan Singh came to Uzbekistan, the first such visit by an Indian premier in over a decade. India's Ministry of Petroleum and Natural Gas and GAIL, a state-run gas company, signed a memorandum of understanding to conduct oil and gas exploration in Uzbekistan.
Karimov stressed that Uzbekistan "is ready to allocate geological territory to Indian companies to explore the resource of gas, oil, and other hydrocarbons." Less than two weeks later, UPI reported that GAIL and Uzbekistan's Uzbekneftegaz will work together to build facilities in Uzbekistan to produce liquefied petroleum gas. The report did not say how many facilities are planned, but it noted that they will cost $50 million-$60 million each and have a production capacity of 100,000 tons per year.

Pushing Non-Interference

In early May, Karimov visited Pakistan for the first time in 14 years. The trip did not produce any bombshell agreements, but it represented a significant step forward for ties that have been largely dormant in recent years. In a symbolic gesture, Karimov expressed support for Pakistan's bid to join the Shanghai Cooperation Organization (SCO: China, Kazakhstan, Kyrgyzstan, Russia, Tajikistan, Uzbekistan).

The SCO espouses an approach to multilateral relations Uzbekistan now finds much to its liking: business ties cemented by ruling elites who have accepted a particular principle of noninterference in each other's internal affairs. In practice, this means that elites do business with each other with a pointed lack of attention to the issues of democratic governance and human rights that have so soured Karimov's relations with the West. It is this principle that now underpins Uzbekistan's foreign policy and relations with the countries it counts as friends.
Uzbekistan, Russia, And The West
Uzbekistan, Russia, And The West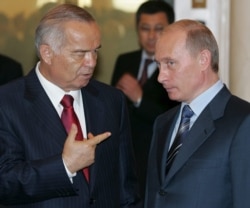 President Karimov (left) with Russian President Putin in July 2005 (epa)


BETWEEN EAST AND WEST: One of the ramifications of the May 2005 bloodshed in Andijon has been a souring of relations between Tashkent and the West, accompanied by a raproachment between Uzbekistan and Russia. Following sharp U.S. and European criticism of the Andijon crackdown, Uzbekistan kicked the United States out of the Karshi-Khanabad air base and began actively courting Moscow.
"Today, we are reaching an unprecedented level in our relationship," Uzbek President Islam Karimov said during a November 2005 summit with Russian President Vladimir Putin, at which the leaders signed a strategic-partnership agreement. "I understand and we all understand in Uzbekistan that it is unprecedented that Russia signs such a partnership agreement with Uzbekistan."
RELATED ARTICLES
Germany Likely To Leave Uzbek Base
The Geopolitical Game In Central Asia
Uzbekistan: Between East And West
Central Asia: Russia And U.S. Often At Odds In Region
Russian, U.S. Military Bases On Opposite Tracks
Swiss Spokeswoman Explains Arms Ban On Uzbekistan
Putin Defends Ties With Uzbekistan, Belarus, Iran
Uzbekistan: Playing Russia Against The West
Factbox Of Uzbek-Russian Relations


THE COMPLETE STORY: A dedicated webpage bringing together all of RFE/RL's coverage of the events in Andijon, Uzbekistan, in May 2005 and their continuing repercussions.
CHRONOLOGY
For an annotated timeline of the Andijon events and their repercussions, click here.