WASHINGTON, May 18, 2006 (RFE/RL) -- In the face of persistent demands from the European Union and United States for an international investigation into whether Uzbek security forces massacred both armed and unarmed protesters in Andijon in May 2005, official statements and articles in the state-controlled media counterattacked along a number of fronts. Some articles suggested that the Uzbek government's foreign detractors are motivated by "envy" and "malice." "Namangan Haqiqati," a local newspaper from Namangan, wrote on May 13 that "our enemies are always envious of our independence, peace, and stability."
In an article the same day in "Mohiyat," analyst Ibrohim Normatov struck a similar note, writing that "Where there is envy, there is malice." Normatov made an apparent allusion to Uzbek official claims that the unrest in Andijon was a foreign-sponsored attempt to ignite a revolution. He claimed that "the malicious ones have raised a hue and cry for one year," adding that "they still cannot forgive themselves that the spark of scandal didn't ignite on the scale of Uzbekistan."
Other arguments imputed a more pragmatic motivation to Uzbekistan's purported foes. Latif Gulamov, chairman of the central council of the ruling People's Democratic Party of Uzbekistan, claimed that "it has become an axiom that the modern 'exporters of democracy'" are interested in "taking control over the region's rich hydrocarbon resources and the routes of exporting them," vesti.uz reported on May 12. Gulamov stressed: "Our country has been the target of information aggression for several years now. It is obvious that geopolitical interests are behind all these 'scenarios.'"
Yet another claim was that Western emphasis on human-rights issues represents an infringement on Uzbekistan's sovereignty. On May 13, press-uz.info published a lengthy comment by Sharofiddin Tulaganov, identified as a specialist from the Politika analytical center, on the 439 Uzbek refugees who were airlifted from Kyrgyzstan to Romania in 2005. Describing the refugees as "pawns" in a political game, Tulaganov commented, "Rising to the defense of these notorious human rights, in fact, all of the puppets in this play made every effort to pressure a country that dared to put up stiff resistance to countries that are crudely interfering in the internal affairs of sovereign states."
Tulaganov's argument harked back to comments Uzbek President Islam Karimov made on May 25, 2005. In an interview that would set the tone for much of the official Uzbek response to Western criticisms of his handling of unrest in Andijon, Karimov angrily rejected calls for an independent international investigation. The president asked rhetorically, "Is Uzbekistan an independent, sovereign state?" He then retorted, "They want us to be obedient to them, making us feel like we're the accused." Karimov went on to ask, "Why should we have to give you answers as though we're the accused?" He closed with a phrase that would later provide the title for a book expounding the president's views on Uzbekistan's place in a post-Andijon world: "The Uzbek people will never be dependent on anyone."
Karimov's remarks on May 25 came on the eve of a visit to China, which feted him even as he was trading barbs with Western nations over Andijon. In a lengthy article in Toronto's "The Globe and Mail" on March 4, 2006, Geoffrey York noted that Beijing's "red-carpet welcome to Uzbekistan strongman Islam Karimov" and the $600 million oil deal Karimov signed on his post-Andijon trip to China are part of a Chinese approach to foreign relations based on the idea that "the autocracies of the developing world can stand up to Washington's pressure by forming their own profitable alliances and trade." York cited financially tinged ties between China and Sudan, North Korea, Zimbabwe, and Iran as other examples of Beijing's "model of moral neutrality."
Diplomatic 'Business As Usual'
The language diplomats from these nations use to describe each other's domestic affairs is strikingly similar in tone and logic to official Uzbek statements in the wake of Andijon. "The Globe and Mail" quoted Chinese Deputy Foreign Minister Zhou Wenzhong on accusations that Sudan's leaders are perpetrating war crimes and genocide. Zhou shrugged: "Business is business. We try to separate politics from business. I think the internal situation in the Sudan is an internal affair, and we are not in a position to impose upon them."
A web of such statements links numerous countries whose officials perceive themselves as victims of Western meddling. North Korea's official news agency reported the following about developments in Sudan on May 17: "The [Democratic People's Republic of Korea's] government and people, [who] have consistently asserted a peaceful settlement of all disputes through dialogues and negotiations free from foreign interference sincerely rejoice at and warmly hail the provision of a political and legal foundation for the settlement of the crisis in Darfur." In a similar vein, Sudan radio on April 21 reported that Masud al-Khadimi, Iran's charge d'affairs in Sudan, "said that the issue of Darfur is an internal problem, which should not be used by any party to interfere into Sudan's internal affairs."
Russia, which has seen its ties with the West deteriorate in recent years over issues of governance and rights, is also a part of this dialogue. Mikhail Margelov, chairman of the International Relations Committee in Russia's Federation Council, told Interfax on May 17 that Russia is "the only country that is helping Sudan without interfering in its internal affairs." Margelov emphasized, "The self-identification of Sudan as a sovereign state is important for us."
Russian President Vladimir Putin seized on the theme of sovereign strength and outside interference in his state-of-the-nation address on May 10. According to the official English transcript published on the Kremlin's website (http://www.kremlin.ru/eng), Putin argued, "We must be able to respond to attempts from any quarters to put foreign policy pressure on Russia, including with the aim of strengthening one's own position at our expense." He continued, "We also need to make clear that the stronger our armed forces are, the lesser the temptation for anyone to put such pressure on us, no matter under what pretext this is done." Two days later, Putin met in Sochi with Karimov, who clearly sees eye to eye with his Russian counterpart on this crucial issue, "Kommersant" reported on May 12. During the meeting with Putin, Karimov told journalists: "Russia has defended and will defend its interest without looking over its shoulder at anyone or anything. This gives us confidence."
Time will tell whether Karimov's confidence is justified, and, more broadly, whether a loose-knit grouping of states premised on distaste for globalized standards of governance and rights and a hard-nosed commitment to the precedence of local practice and financial ties between elites will cohere into a meaningful bloc. The post-Cold War era, which began with hopes of a less fractious world, is now full of emerging divisions. The nascent bloc of "non-interfering countries" is merely one of them. But because of the strong incentives it offers entrenched ruling elites, it is one to watch.
Andijon Anniversary Conference
Andijon Anniversary Conference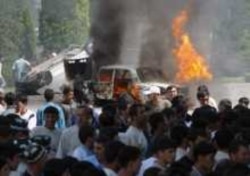 Violence in Andijon, Uzbekistan, on May 14, 2005 (epa)


TALKING ABOUT ANDIJON:
On May 9, 2006, RFE/RL, the National Endowment for Democracy, and U.S.-based human rights organizations cohosted a conference on the May 2005 events in Andijon and their aftermath in Uzbekistan and throughout the region. The first panel featured Andijon eyewitness
GALIMA BUKHARBAEVA
, National Endowment for Democracy Fellow
NOZIMA KAMALOVA
, RFE/RL Central Asia analyst
DANIEL KIMMAGE
, and others. The second panel featured presentations by U.S. Senator
JOHN MCCAIN
and U.S. Congressman
CHRISTOPHER SMITH
, who used the forum to announce they had introduced legislation calling for sanctions and other measures against the government of President Islam Karimov.
LISTEN
Listen to the Andijon conference. Part One (70 minutes):
Real Audio
Windows Media
Part Two (60 minutes):
Real Audio
Windows Media
The Uzbek government's response:
Real Audio
Windows Media


THE COMPLETE STORY: A dedicated webpage bringing together all of RFE/RL's coverage of the events in Andijon, Uzbekistan, in May 2005 and their continuing repercussions.
CHRONOLOGY
For an annotated timeline of the Andijon events and their repercussions, click here.