LONDON, May 15, 2006 (RFE/RL) -- It was the British Presidency of the EU that pushed through punitive measures in September, including an arms embargo and a visa ban on senior Uzbek officials. Blair and his government have been among the most consistent voices for accountability since the Uzbek crackdown urging Karimov's administration to allow international observers into the area within days of the Andijon tragedy on May 13, 2005.

Blair had that record in mind when he told Parliament on May 10 that the United Kingdom would continue to push for concerted action to ease repression in Uzbekistan.

"The U.K. was at the forefront in condemning the disproportionate and indiscriminate use of force that resulted in that killing," Blair said. "It was under our presidency that the European Union imposed measures such as a visa ban and an arms embargo. We will look at strengthening those EU measures, and we have been sponsoring a United Nations resolution through the European Union. I assure the honorable gentleman that we will keep up the pressure on Uzbekistan in order to make sure that the human rights situation is changed."

Pressing Blair To Press Karimov

Blair was responding to a question from Alistair Carmichael, a Liberal Democratic Party legislator from Scotland. Carmichael is part of a dedicated, all-party group of MPs advocating a tougher line against Tashkent.

Uzbek officials have insisted that they put down a dangerous rebellion -- killing fewer than 200 "terrorists" in the process. Rights groups and eyewitnesses have suggested that troops fired indiscriminately and killed several times that number of people.

In an interview with RFE/RL after Blair's comments, MP Carmichael insists the international community should send a stronger message to Karimov's administration.

"I asked this question because, like many people in this country, I am very concerned about the activities of the Karimov regime," Carmichael says. "We are appalled at the events that happened in Andijon, and we are outraged that one year after the event there has still been no proper investigation and that -- these people who were murdered -- nobody has been brought to justice for this. That is a scandal that crosses borders and one with which I cannot be silent."

Carmichael and other MPs from across the political spectrum are banding together to try and keep the spotlight on Uzbekistan -- and on other Central Asian states.

"There is in fact a number of colleagues in all different parties -- in the Labour Party and the Conservatives, and the Liberal Democrats and the [Scottish] Nationalists -- who are now getting together and who are forming parliamentary action on this," Carmichael says. "We recently held a debate on Central Asian republics in parliament, and we are in fact in the process of forming a group to bring attention to atrocities of this sort."

What About Brussels?

By pushing Blair's hand, the group hopes it can pressure the EU to take stronger action against Tashkent.

"I think the message should go from the United Kingdom to the Karimov regime that we know what they're doing -- that it's not acceptable, it puts them out with the civilized international community, and that we will not rest until there is justice for these people," Carmichael says.

Does the EU need such prompting in order to act more decisively over Andijon? Dr. Peter Ferdinand, a specialist in East-West relations at the University of Warwick, argues that it does.

"It does not seem as though the European Union collectively has made Uzbekistan and relations with it a very high priority," Ferdinand says. "And my suspicion would be that many EU officials are not especially familiar with the situation in Uzbekistan. So, overall, I don't suppose that it figures very high on the list of priorities."

Questionable Levers

Ferdinand says the U.K. Presidency of the EU showed genuine leadership in the wake of the Andijon killings. He also stresses that Britain has little to lose economically by pursuing tough policies concerning Uzbekistan.

"There certainly have been officials in the British government who have been willing to press the Uzbek government much more strongly over issues of human rights," Ferdinand says. "And maybe also the fact that Britain has no very strong economic interests at the moment in Uzbekistan would also relieve the pressure for them to be more cautious."

Even if backers of tougher action won the debate in Brussels, it is unclear how much pressure the West can exert on Tashkent. Karimov has countered Western condemnation so far by aggressively courting Russia and China -- including through multilateral groups like the Shanghai Cooperation Organization (SCO). The Uzbek leader has also pursued closer ties with less traditional partners like India.
Members of the U.S. Congress announced on May 9 that they would reintroduce a bill on democracy in Central Asia that considers preventing any U.S. funding to Uzbekistan until there is "considerable progress" on human rights and a "credible international investigation" of Andijon.
MP Carmichael suggests the West could impose commercial and visa sanctions, in addition to freezing it out of international organizations. Britain should keep leading the EU by example and, he insists, maybe other countries will join in.
Uzbekistan, Russia, And The West
Uzbekistan, Russia, And The West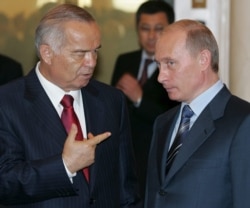 President Karimov (left) with Russian President Putin in July 2005 (epa)


BETWEEN EAST AND WEST: One of the ramifications of the May 2005 bloodshed in Andijon has been a souring of relations between Tashkent and the West, accompanied by a raproachment between Uzbekistan and Russia. Following sharp U.S. and European criticism of the Andijon crackdown, Uzbekistan kicked the United States out of the Karshi-Khanabad air base and began actively courting Moscow.
"Today, we are reaching an unprecedented level in our relationship," Uzbek President Islam Karimov said during a November 2005 summit with Russian President Vladimir Putin, at which the leaders signed a strategic-partnership agreement. "I understand and we all understand in Uzbekistan that it is unprecedented that Russia signs such a partnership agreement with Uzbekistan."
RELATED ARTICLES
Germany Likely To Leave Uzbek Base
The Geopolitical Game In Central Asia
Uzbekistan: Between East And West
Central Asia: Russia And U.S. Often At Odds In Region
Russian, U.S. Military Bases On Opposite Tracks
Swiss Spokeswoman Explains Arms Ban On Uzbekistan
Putin Defends Ties With Uzbekistan, Belarus, Iran
Uzbekistan: Playing Russia Against The West
Factbox Of Uzbek-Russian Relations


THE COMPLETE STORY: A dedicated webpage bringing together all of RFE/RL's coverage of the events in Andijon, Uzbekistan, in May 2005 and their continuing repercussions.
CHRONOLOGY
For an annotated timeline of the Andijon events and their repercussions, click here.