In Uzbekistan's capital, Tashkent, police broke up a small demonstration held by activists demanding an independent probe into the Andijon events. Police tore down banners declaring "Shame on Uzbekistan, Shame on [President] Islam Karimov."
Uzbek opposition members held demonstrations in New York, Kyiv, and Istanbul.
In Osh, Kyrgyzstan, Uzbek oppositionists who had fled their home country cancelled a planned demonstration. The opposition members said they had been warned that as refugees, they didn't have the right to participate in political rallies.
Also today, the United States today joined calls for a full investigation into the killings of demonstrators.
Uzbek authorities blame Islamic militants for instigating the Andijon violence. Rights advocates and witnesses say many more people were killed than the government admits, including many unarmed civilians.
U.S. State Department spokesman Sean McCormack said Uzbek authorities should also immediately stop what he called a crackdown on civil society. He said the United States has not ruled out possible sanctions against Uzbekistan if it doesn't address human rights concerns.
(AP, dpa)
Andijon Refugees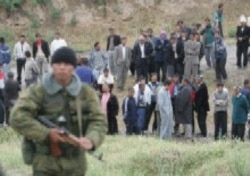 Uzbek refugees in Kyrgyzstan on May 19, 2005 (epa)


NO PLACE TO GO: More than 400 Uzbeks who fled in panic in the hours and days after troops opened fire on demonstrators in Andijon one year ago have been granted political asylum outside Central Asia. In limbo for weeks in Kyrgyzstan as they and the world tried to come to grips with the bloody events of May 12 and 13, they feared for their lives and the lives of family members as the official crackdown continued.... (more)
RELATED ARTICLES
Andijon Refugees In Romania Have Escaped Violence, But Not Heartache
Refugees In Romania Await Decision On Destination
Refugees Want To Return Only If Regime Changes


THE COMPLETE STORY: A dedicated webpage bringing together all of RFE/RL's coverage of the events in Andijon, Uzbekistan, in May 2005 and their continuing repercussions.
CHRONOLOGY
For an annotated timeline of the Andijon events and their repercussions, click here.