Uzbekistan: Journalist Recalls Effects Of Andijon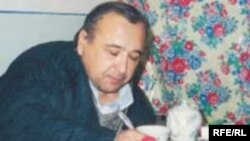 Nosir Zokirov at work in the spring of 2005 (RFE/RL) Uzbek media continue to suffer at the hands of one of Central Asia's most repressive administrations -- that of Uzbek President Islam Karimov. Nosir Zokirov, a former RFE/RL correspondent, recently completed a six-month jail sentence for what rights groups say were fabricated charges. His plight echoes that of many other journalists who reported on the bloody government crackdown in the eastern city of Andijon in May 2005.
PRAGUE, May 9, 2006 (RFE/RL) -- Zokirov was an eight-year veteran with RFE/RL's Uzbek Service when a rebel uprising triggered the chain of events that led to the massacre by authorities of hundreds of demonstrators on Andijon's main square.
He'd been filing reports from the nearby city of Namangan, in the fertile and densely populated Ferghana Valley. He is convinced that his work led to intimidation and harassment at the hands of official and semi-official institutions. State-controlled media smeared Zokirov professionally and privately, and even targeted members of his family. He was summoned to the local police station over his reporting, and had his telephone service inexplicably cut off on several occasions.
Inspired By The Democratic Movement
A former stage actor, Zokirov began working as a journalist after Uzbekistan held its first post-Soviet presidential election in December 1991. Zokirov says he was inspired by ideals of independence and the prospect of a democratic future for his country.
He also says he was inspired by the example set by his late father.
"I was an actor by profession, but my late father, Jo'ra Zokiriy, was a journalist," Zokirov said. "He launched the first newspaper in Turkmenistan's Tashovuz region."
But Nosir Zokirov's work with RFE/RL soon put him in jeopardy: In late 1993, a journalist with opposition sympathies was imprisoned after Karimov reined in dissent. Several prominent opposition leaders were forced to flee the country. Soon, Zokirov, too, was jailed.
Thrown In Jail
"I started working for Radio Ozodlik, [RFE/RL's] Uzbek Service, in September 1993," he said. "On November 27, 1993, I was imprisoned for 2 1/2 years on charges of drug abuse and keeping a grenade at home. But I was released a year later because of pressure from the international community, support from colleagues, and also through God's will."
The official campaign against independent media and foreign journalists intensified after the bloodshed in Andijon. After RFE/RL's Uzbek Service broadcast an interview Zokirov conducted with local poet Khaidarali Komilov, who was critical of the government's actions, Zokirov was summoned to court in Namangan.
When he went to trial on August 26, he had no access to defense counsel nor any opportunity to cross-examine witnesses. He was quickly convicted and dispatched to prison for insulting an Uzbek security officer.
Zokirov was released on February 26, having served his full six-month sentence. He lamented the lack of access to news and information during his incarceration. But he also says he feared for the safety of colleagues and family members.
Crackdown On Information
Many colleagues fled the country in the wake of Andijon -- some have blamed intimidation, threats, and harassment. Uzbek authorities subsequently denied RFE/RL accreditation, shutting down its bureau in the capital.
Some of Zokirov's five sons have been the target of unflattering articles in the local press or called to answer to the police for their political activities. Zokirov says he is determined to continue working as a journalist to help safeguard his children's future.
"I'm over 50; not much is left [for me] to live," he said. "Kids read books. I think of them, of my children. I hope they and [other] people will eventually understand what I was doing and why. The people already see who is doing what."
While he no longer files reports from his corner of Uzbekistan to RFE/RL, Zokirov continues to be a conduit for information. Many of his countrymen come to him to recount their own experiences, he says. And when they and others ask for the latest news, the 53-year-old grandfather of three tells them.


A dedicated webpage bringing together all of RFE/RL's coverage of the events in Andijon, Uzbekistan, in May 2005 and their continuing repercussions.
CHRONOLOGY
An
annotated timeline
of the Andijon events and their repercussions.