PRAGUE, May 12, 2006 (RFE/RL) -- At the height of the Andijon crisis, the occupiers of the regional-administration building sought Russia's mediation in talks with the Uzbek authorities. Moscow rejected the idea, saying Andijon was an "internal" Uzbek affair.
In the immediate aftermath of the Andijon violence, Russian Foreign Minister Sergei Lavrov essentially endorsed the Karimov administration's actions by insisting that foreign Islamic terrorists' had a hand in the uprising.
China also supported the Uzbek authorities, praising Karimov's handling of Andijon and receiving him in Beijing days later.
Western Reaction Was Uncoordinated
Initial reaction from the West, on the other hand, appeared piecemeal and muted.
On May 13, Washington expressed concern over the outbreak of violence and the escape of alleged Islamic terrorists from a besieged jail.
Within days, U.S. State Department Spokesman Richard Boucher condemned the Uzbek government's violent tactics.
"We are deeply disturbed by the reports that the Uzbek authorities fired on demonstrators last Friday [May 13]," Boucher said on May 16, 2005. "We certainly condemn the indiscriminate use of force against unarmed civilians and deeply regret any loss of life. We have urged, had urged, and continue to urge the Uzbek government to exercise restraint, stressing that violence cannot lead to long-term stability."
The European Union also expressed concern, but officials rejected calls by human-rights groups for a suspension of the EU-Uzbek Partnership and Cooperation Agreement. That document stresses the need for respecting human rights and the rule of law.
Months later, Brussels abandoned the agreement, bolstering critics' perception of inconsistent policy with respect to Uzbekistan.
London Leads The Way
The toughest criticism initially came from British Foreign Minister Jack Straw. He described the situation in Uzbekistan as "very serious" and said Uzbek authorities had committed a clear abuse of human rights.
London was also the first to demand that Tashkent allow an international visit to Andijon.
The United States soon joined that call. U.S. President George W. Bush insisted that Washington wanted "to know fully what took place" in Uzbekistan.
Officials in Tashkent relented, arranging a 90-minute trip to Andijon for diplomats on May 18.
U.S. Senator John McCain (Republican, Arizona) was among those who visited eastern Uzbekistan.
"In the wake of the massacre, I traveled to Tashkent," McCain told a conference on May 9. "During our brief stop -- and it was brief -- we saw photos and heard other evidence that was as compelling as it was shocking. And it was clear that the government's account of the events in Andijon simply didn't add up."
Uzbek officials subsequently resisted pressure both at home and abroad. Tashkent rejected repeated international calls for an independent investigation. It also stepped up the harassment and persecution of independent journalists, rights activists, and members of the political opposition.
Drifting Toward Russia
Karimov also appears to have realigned the country's foreign policy. The first clear sign of change in the region came in July when leaders of the Shanghai Cooperation Organization (SCO) demanded that the United States set a time frame for ending its military presence in Central Asia. The SCO comprises Uzbekistan, Russia, China, Kazakhstan, Kyrgyzstan, and Tajikistan.
Within a month, Karimov announced the imminent closure of the Karshi-Khanabad air base in southern Uzbekistan. U.S. troops vacated the base months in November, while NATO and EU troops withdrew from Termez, leaving only a German contingent there.
In late September, Brussels appeared to have stiffened its resolve. The EU imposed an arms embargo and an entry ban on 12 senior Uzbek security officials believed to have been responsible for the Andijon crackdown.
"As you know, I have recently signed a law on the ratification of our treaty on allied relations, which represents, to a certain degree, a phase in improving the quality of our cooperation," Putin told Karimov today in Sochi. "I think all of this will be the subject of our conversation today, as well as the situation in the region, which we are all not indifferent to because it is our home."
But in October, Uzbek Interior Minister Zakir Almatov, who topped that blacklist, was allowed to visit Germany for medical treatment. German authorities said the minister's visa was issued on "humanitarian grounds," and they failed to apprehend him despite legal challenges and criticism from rights groups.
Tashkent has since signed an unprecedented treaty on "allied relations" with Moscow, and Uzbekistan joined the Russia-led Eurasian Economic Community in January.
Karimov Marks The Anniversary At A Russian Beach Resort
Today, on the anniversary of the violent raids that escalated the tragedy in Andijon, Putin and Karimov met at the Russian resort of Sochi. The Russian leader went so far as to call Central Asia "our home":
"As you know, I have recently signed a law on the ratification of our treaty on allied relations, which represents, to a certain degree, a phase in improving the quality of our cooperation," Putin told Karimov. "I think all of this will be the subject of our conversation today, as well as the situation in the region, which we are all not indifferent to because it is our home."
Karimov on May 9 boasted that the treaty with Russia "guarantees regional peace and stability." He also sent a letter to Putin calling for closer ties "in the face of the dangerous challenges that continue to threaten the peace of our people and future generations."
The West Gets Tough?
As the Andijon anniversary approached, Western governments and rights groups boosted calls for a serious inquiry into the Andijon bloodshed.
U.S. Senator McCain and U.S. Representative Christopher Smith (Republican, New Jersey) announced on May 9 that they would reintroduce a bill on democracy in Central Asia. The document considers preventing any U.S. funding to Uzbekistan until there is "considerable progress" on human rights and a "credible international investigation" of Andijon.
The proposal would also deny visas for the family and close associates of Karimov, as well as freeze their assets abroad.
The European Parliament on May 11 debated similar strictures.
On May 10, British Prime Minister Tony Blair said London will keep up pressure on Uzbekistan to improve its human rights record. He said Britain will also try to strengthen punitive measures already in place against Tashkent -- including the EU arms embargo and visa ban.
But Western governments are still being accused of lacking any unified approach to the Karimov regime.
"Unfortunately for us -- for Uzbeks -- it is all about [the West's] interests in [Uzbek] oil and gas. For instance, Germany can't do much [against Uzbekistan] because it is interested in the air base at Termez," said journalist Galima Bukharbaeva, who witnessed the Andijon events. "All those interests contradict statements that human rights and democratic values matter to them. Today, we see that the price of gas is higher than [the cost of] the lives of hundreds -- and possibly thousands -- of Andijon residents."
Uzbekistan, Russia, And The West
Uzbekistan, Russia, And The West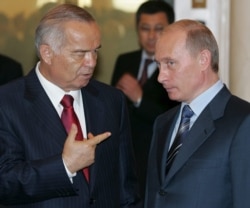 President Karimov (left) with Russian President Putin in July 2005 (epa)


BETWEEN EAST AND WEST: One of the ramifications of the May 2005 bloodshed in Andijon has been a souring of relations between Tashkent and the West, accompanied by a raproachment between Uzbekistan and Russia. Following sharp U.S. and European criticism of the Andijon crackdown, Uzbekistan kicked the United States out of the Karshi-Khanabad air base and began actively courting Moscow.
"Today, we are reaching an unprecedented level in our relationship," Uzbek President Islam Karimov said during a November 2005 summit with Russian President Vladimir Putin, at which the leaders signed a strategic-partnership agreement. "I understand and we all understand in Uzbekistan that it is unprecedented that Russia signs such a partnership agreement with Uzbekistan."
RELATED ARTICLES
Germany Likely To Leave Uzbek Base
The Geopolitical Game In Central Asia
Uzbekistan: Between East And West
Central Asia: Russia And U.S. Often At Odds In Region
Russian, U.S. Military Bases On Opposite Tracks
Swiss Spokeswoman Explains Arms Ban On Uzbekistan
Putin Defends Ties With Uzbekistan, Belarus, Iran
Uzbekistan: Playing Russia Against The West
Factbox Of Uzbek-Russian Relations


THE COMPLETE STORY: A dedicated webpage bringing together all of RFE/RL's coverage of the events in Andijon, Uzbekistan, in May 2005 and their continuing repercussions.
CHRONOLOGY
For an annotated timeline of the Andijon events and their repercussions, click here.