Second Recorder From Armenian Plane Recovered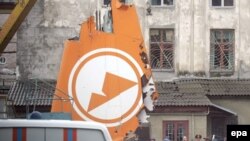 Wreckage from the Armavia plane being recovered in Sochi on May 3 (epa) May 24, 2006 -- Russia's Transport Ministry says searchers have recovered from the seabed the second flight-data recorder from an Armenian passenger plane that crashed in the Black Sea on May 3, killing 113 people.
The instrument is expected to provide investigators with technical details about the flight.
The other recorder, holding voice recordings from the flight, was recovered from the seabed on May 22.
All 113 passengers and crew on board died when the Armavia Airlines Airbus A320 crashed on May 3 during its approach to Russia's Black Sea resort of Sochi on a flight from Yerevan.
There has so far been no official word on the possible cause of the crash.
(AFP, ITAR-TASS)