Iranian Azeris Continue Protests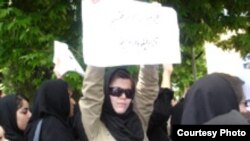 Tabriz University students rally on May 22 to protest at the perceived slur against Iran's large Azeri minority (Courtesy Photo) May 24, 2006 -- State media in Iran report some 20,000 members of the country's Azeri minority today marched through the northwestern city of Tabriz to protest the recent publication of a cartoon they deem offending.
The state news agency IRNA says the protesters also called on the government to hold to account those responsible for turning a similar protest violent on May 22.
Unrest in Tabriz erupted after the Tehran-based, government-controlled "Iran" daily on May 19 published a cartoon showing a cockroach speaking Azeri.
Clashes with law enforcement agents left at least one demonstrator wounded, and police say they made 54 arrests.
Iran's central authorities have ordered the indefinite closure of the daily and the arrest of its editor and cartoonist.
The newspaper's staff on May 24 issued a statement in which they said they should not be held collectively responsible.
(Reuters, IRNA)

SUBSCRIBE For regular news and analysis on Iran by e-mail,
subscribe to "RFE/RL Iran Report."