Russia: Gay Activists Tout Success Of Rally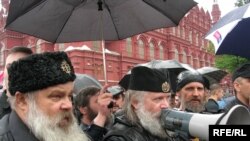 Nationalist counterdemonstrators shout homophobic slogans at gay protesters in Moscow on May 27 (RFE/RL) MOSCOW, May 29, 2006 (RFE/RL) -- Organizers of a gay-pride rally that took place in Moscow this weekend are touting its success despite the violence and lack of official support that accompanied the event.
Some injuries were reported as anti-gay protestors attempted to violently prevent two rallies from taking place. Among those injured was a member of Germany's parliament who was attacked as he was giving an interview. More than 100 people, most of them gay activists, were arrested.

Organizer Arrested
Among them was gay activist Nikolai Alekseyev, the driving force behind the march. He told RFE/RL today that following his arrest he was taken to a nearby police station, where he had to share a cell with anti-gay protesters arrested at the rally.

He was released after several hours, but faces charges of organizing an unsanctioned meeting.

Alekseyev said the day's events as a victory for Russia's gay and lesbian community.
"I see it as a huge breakthrough in visibility and in the debate over the situation of sexual minorities in Russia, because on Saturday the whole world saw how low Russia has sunk with regards to implementing the rights of various minorities. So despite all the homophobia and intolerance toward people with an alternative sexual orientation sanctioned by the Moscow authorities, staging what we staged is, in my opinion, a huge success," Alekseyev said.

City Opposition
The original plan for Moscow Pride '06 was to hold the city's first-ever gay and lesbian parade, but city and regional authorities refused to grant approval.


The activists instead devised an alternative plan. In a symbolic gesture intended to honor the country's war with Nazi Germany they planned to lay wreaths at the Tomb of the Unknown Soldier near the Kremlin. From there they were to head to a monument near City Hall to protest Mayor Yury Luzhkov's decision to ban the parade.
A group of activists arrived to find police blocking the entrance to the tomb. They also found a crowd made up of Russian Orthodox believers, skinheads, and Cossacks awaiting them.
Attacks
Violence ensued as the gay activists attempted to lay flowers at the gate surrounding the area. They were pelted with projectiles and beaten by some protestors,

A group made their way to the city's monument to Prince Yury Dolgoruky, but found that area occupied by ultranationalists and police.

German parliamentarian Volker Beck, a member of the Green Party, described the attack he sustained. "At first I was struck by a rock and then a young neo-Nazi hit me in the face," Beck told the German news agency dpa.

"The Moscow Times" quoted a youth identified only as Aleksei as saying he punched the German lawmaker in the face "because I am a normal Russian guy."

Western Criticism
The Council of Europe issued a statement of support ahead of the event, and the vice president of the European Parliament's Intergroup on gay and lesbian rights, Sophie int Veld, attended the rally. Other foreign representatives included representatives of Paris' mayoral office. Philippe Lanier, an aide to Paris' mayor, was detained during the events.

Paris Vice Mayor Clementine Autain, who attended the rally, expressed concern over the events, telling AFP that "at the moment when Russia is taking over the presidency of the Council of Europe we are concerned because the Russian authorities haven't shown the will to respect human rights, in particular the rights of minorities and freedom of expression."

Activist Alekseyev told the French news agency that the organizers of the event plan to go to court to appeal the parade ban.

(RFE/RL correspondent Claire Bigg contributed to this report from Moscow.)
'ABSOLUTELY UNACCEPTABLE FOR MOSCOW': On May 27, gay activists attempted to hold a peaceful demonstration in Moscow. Earlier , the AP quoted Moscow Mayor Yury Luzhkov as saying that gay-pride parades "may be acceptable for some kind of progressive, in some sense, countries in the West, but it is absolutely unacceptable for Moscow, for Russia."
"As long as I am mayor, we will not permit these parades to be conducted," Luzhkov said.
RFE/RL Moscow correspondent Claire Bigg attended the demonstration and filed these sounds and images.
LISTEN
Listen to the sounds of the demonstration (about 90 seconds):
Real Audio
Windows Media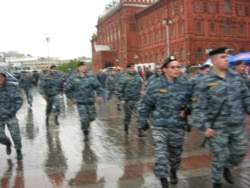 Riot police rushing to the scene of the wreath-laying near the Kremlin wall (RFE/RL)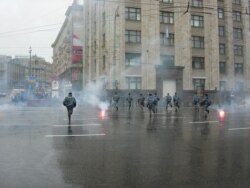 Antigay counterprotesters fired flares into the street in order to prevent the gays from marching (RFE/RL)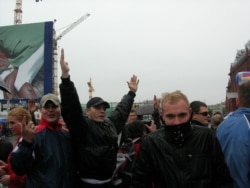 Nationalist youths shouted homophobic slogans such as "death to pederasts!" (RFE/RL)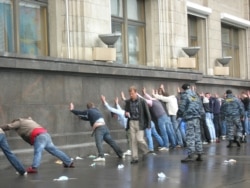 Riot police arresting some of the antigay counterdemonstrators (RFE/RL)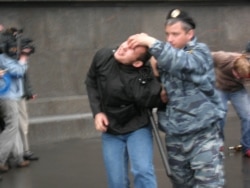 A police officer detaining an antigay counterdemonstrator (RFE/RL)

SUBSCRIBE
For a regular review of civil-society developments throughout RFE/RL's broadcast region, subscribe to "RFE/RL (Un)Civil Societies."