While Vienna hosts the talks on Iran today, the major action so far is in Washington and Tehran. On May 31 in the U.S. capital, the Bush administration signaled a major policy shift, saying the United States would be willing to join the European Union's Britain, France, and Germany in direct talks with Iran.
But U.S. Secretary of State Condoleezza Rice told a news conference in Washington that the offer carries with it an important precondition. "To underscore our commitment to a diplomatic solution and to enhance the prospects for success, as soon as Iran fully and verifiably suspends its enrichment and reprocessing activities, the United States will come to the table with our EU colleagues and meet with Iran's representatives," she said.
Immediate Rejection In Tehran
Unprecedented though it may be, the U.S. offer met with a swift rebuff in Tehran. Speaking to reporters, Iranian Foreign Minister Manuchehr Mottaki said that while he welcomed direct talks with Washington, Iran will not suspend its uranium-enrichment effort or give up what he called Iran's right to all phases of a nuclear energy program.
"We will not negotiate about our legal and clear rights," he said. "Whatever is the right of the Islamic Republic and the Iranian nation, as determined by international treaties that we are a part of, we will not negotiate. We are ready to discuss our mutual concerns."
Tehran's top diplomat then took a jab at Washington: "It may be that these ramblings [Rice's announcement] are an attempt to cover up their crimes in Iraq."
Cautious Praise In Vienna
In Vienna today, the foreign ministers from the five permanent powers on the Security Council -- along with Germany and EU High Representative for Common Foreign and Security Policy Javier Solana -- are almost certain to be discussing the U.S. offer to join the EU talks.
Some of the participants have already publicly praised the U.S. initiative. Solana said it represents "the strongest and most positive signal of our common wish to reach an agreement with Iran."
Beijing, too, welcomed the move but with reservations. China's envoy to the UN, Wang Guangya, urged Washington to "not have any preconditions" for talks.
Ball In Iran's Court
Still, Washington hopes the offer now puts it at a diplomatic advantage by placing the onus for the continuing nuclear crisis on Tehran. The United States may hope that will build support for Western efforts to get a new and binding UN resolution demanding Tehran stop uranium enrichment or risk unspecified punitive measures.
"There is an important diplomatic component because the U.S. can't be seen as always the rejectionist party, because that makes it difficult for the other P-5 states [permanent member states of the Security Council] to go along with what the U.S. is proposing in terms of punitive sanctions," said nuclear expert Shannon Kile of the Stockholm International Peace Research Institute in Sweden.
Washington is reported to already have made some concessions to the Russian position to in a bid to get Russian support. U.S. media quote officials as saying privately that Washington has accepted language for the proposed binding Security Council resolution that makes no mention of the possible use of force to make Iran comply with it. That would be in line with Moscow's and Beijing's insistence that the Iranian nuclear crisis be solved only through diplomatic means.
Ahmadinejad's Letter To Bush
Ahmadinejad's Letter To Bush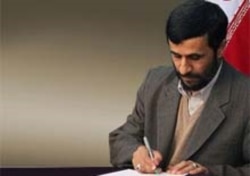 (Fars)


PRESIDENT TO PRESIDENT: On May 8, the Iranian government announced that President Mahmud Ahmadinejad had sent a letter to U.S. President George W. Bush. The letter was the first direct communication between leaders of the two countries since Iran's 1979 Islamic Revolution. RFE/RL has posted the English version of Ahmadinejad's letter that was posted on the Iranian president's website.
"The people will scrutinize our presidencies," AHMADINEJAD wrote. "Did we manage to bring peace, security, and prosperity to our people or insecurity and unemployment? Did we intend to establish justice, or just support special-interest groups and -- by forcing many people to live in poverty and hardship -- make a few people rich and powerful, -- thus trading the approval of the people and the Almighty for [that of those few]? Did we bring the world peace and security or did we raise the specter of intimidation and threats?"...(more)
ARCHIVE
For an archive of RFE/RL's coverage of Iran, click here.


THE COMPLETE PICTURE: RFE/RL's complete coverage of controversy surrounding Iran's nuclear program.
CHRONOLOGY
An annotated timeline of Iran's nuclear program.