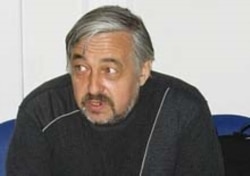 Vladimir Pribylovsky (RFE/RL)
INTERVIEW:
RFE/RL's Russian Service asked Moscow-based political analyst
VLADIMIR PRIBYLOVSKY
to comment on the June 2 dismissal of Prosecutor-General Vladimir Ustinov. Pribylovsky is the director of the Panorama think tank.
RFE/RL: Were you surprised by Ustinov's removal?
Vladimir Pribylovsky: We have the kind of prosecutor-general about whom it should be asked why he wasn't dismissed earlier. Generally, I think this dismissal is connected with the clan struggle and signifies, most likely, a tactical or strategic defeat for one of the St. Petersburg groups, specifically the one associated with [deputy presidential administration head] Igor Sechin, who is the prosecutor-general's [relative]. [Sehchin's daughter] Inga Sechina is the wife of [Ustinov's son] Dmitry Ustinov.
RFE/RL: And how can this defeat be explained?
Pribylovsky: It would appear that the power within the coalition of groups around [President Vladimir] Putin has changed -- the so-called Putin's team. Some weight must have tipped the balance and the president finally decided that it was time to advise Ustinov to leave. In general, there are a lot of people seeking that post.
RFE/RL: Now there are reports that [presidential envoy to the Southern Federal District] Dmitry Kozak will be appointed prosecutor-general and Vladimir Ustinov, most likely, will be sent as ambassador to the European Union.
Pribylovsky: In theory that is possible. Naturally that would be an honorable exile for Ustinov. As far as Kozak is concerned -- he is one of the two most likely candidates for the post. The other is Aleksandr Konovalov, the presidential envoy to the Volga Federal District. His name came up fairly recently as a possible prosecutor-general -- came up in informal conversations, naturally. But Konovalov is a friend of Nikolai Vinnichenko, and Nikolai Vinnichenko is a friend and former classmate of [First Deputy Prime Minister] Dmitry Medvedev. Therefore, such an appointment is possible. Although the appointment of Kozak is also possible. Both of them are associated with the so-called group of Petersburg lawyers, although Kozak is more or less on the periphery of that grouping. It can't be said that he is Medvedev's vassal, as it can be of Konovalov or Vinnichenko.
RFE/RL: You said that it is surprising that Ustinov wasn't fired earlier. Why?
Pribylovsky: The situation here regarding the oversight of the law enforcement agencies, regarding crime, for which the prosecutor-general is responsible, leaves much to be desired. And Ustinov's tenure has not improved a thing.

SUBSCRIBE
For news and analysis on Russia by e-mail, subscribe to "RFE/RL Russia Report."