The arrests follow the recent dismissal of a string of senior security and law enforcement officials in a shake-up that authorities say is part of a drive to eradicate government corruption.
Complemented by today's resignation of longstanding Prosecutor-General Vladimir Ustinov -- the crackdown is raising suspicions that the Kremlin may be playing the corruption card to tighten control over both regions and key state agencies in the run-up to parliamentary and presidential elections.
Call To Action
Russian President Vladimir Putin foreshadowed the events during his May 10 state-of-the-nation address, when he called for stronger efforts to crack down on corrupt government officials.
Results were quick to follow.
Just two days later, twelve officials working for the Federal Customs Service, the Federal Security Service, the Interior Ministry, and the Prosecutor-General's Office were fired.
The wave of dismissals looks set to continue. "The work is not over," Putin warned in televised remarks, "and not only within customs."
The official wrath then fell on the governor of the northern Nenets Autonomous Okrug, Aleksei Barinov. He was taken into custody on suspicion of large-scale embezzlement on May 23, followed shortly by Volgograd Mayor Yevgeny Ishchenko.
Putin has sought to extend the Kremlin's control over Russia's often unruly regions since assuming power in 2000.
Finally, on May 31, a court in the city of Samara added its mayor, Georgy Limansky, to the list of defendants in a case connected with the illegal privatization of a stadium. The military prosecutor's office of Samara Oblast, which is suing the city administration, said criminal charges could soon be brought against Limansky.
Like many observers, Aleksandr Sukharev, director of the federal regionology research institute
,
praised the moves as much-needed steps toward combating embedded official corruption, particularly in the provinces.
"There is a wave of strict demand for clarity in the activities of those in power on the regional level," Sukharev told RFE/RL's Russian Service. "The president's state-of-the-nation address [in which he said] that corruption should be fought mercilessly, is absolutely right because amid such corruption, especially on this scale, it is almost impossible for the current and future authorities to win the trust of the people."
Ulterior Motives?
Critics, however, argue that behind the Kremlin's anticorruption efforts lurk less noble motives.
Georgy Satarov, the director of the INDEM Foundation, an anticorruption think tank based in Moscow, is convinced that these cases have little to do with corruption.
"This is definitely not a fight against corruption, at best it is a fight against separate corrupted individuals," Satarov said. "This is an intrigue, a fight for control over certain agencies, including customs. This is absolutely obvious and transparent, they removed representatives of an old clan and appointed new ones."
Since assuming power in 2000, Putin has sought to extend the Kremlin's control over Russia's often unruly regions. Both Ishchenko and Barinov, who was the last of Russia's elected regional governors, had clashed with Moscow before their arrests.
Following a series of deadly attacks in Russia claimed by Chechen separatists in 2004, Putin abolished the popular election of regional governors. Instead, candidates are now put forward by the president for approval by regional assemblies.
Many observers say the recent arrests and dismissals are linked -- and herald the start of a sweeping campaign to secure loyal allies both in local governments and in strategic government agencies.
The aim -- to ensure favorable results for the pro-Kremlin party, Unified Russia, in the 2007 parliamentary and 2008 presidential elections.
Nikolai Petrov, a political analyst at the Carnegie Center in Moscow, believes the Kremlin is setting the stage for a smooth handover of power to President Vladimir Putin's designated successor in 2008.
"The impression arises that we are dealing not with separate cases but with a whole big campaign orchestrated by power and law enforcement structures," Petrov said. "What we are talking about here is not merely the consolidation of the vertical of power, it is according to what scenario the handover of power take will place in 2008, and what role regional political elites will play in it."
Central Interests
Unlike governors, city mayors remain elected by popular vote, and some observers fear the presidential administration could use the corruption cases against Volgograd Mayor Ishchenko and Samara Mayor Limansky to justify the abolition of direct mayoral elections.
This idea is not new. In April, Unified Russia deputies submitted a bill to parliament that would allow governors to strip mayors of most of their powers in the event they were deemed to manage their cities poorly.
It is not rare that mayors represent interests that conflict with those of the Kremlin-backed governors, and a number of governors have long been calling on the Kremlin to scrap mayoral elections.
Many observers say the recent arrests and dismissals are linked -- and herald the start of a sweeping campaign to secure loyal allies both in local governments and in strategic government agencies.
Such calls were reiterated this week by the governors of the Sverdlovsk Oblast, Eduard Rossel, and of the Pskov Oblast, Mikhail Kuznetsov.
Kuznetsov told RFE/RL that the appointment of mayors by governors would guarantee more stability in the regions by minimizing infighting.
"I have always backed of the idea that mayors should be appointed by governors in order to foster stability in the regions," Kuznetsov said. "There are always disagreements between governors and mayors, and sometimes they take uncivilized forms like in Volgograd. So to avoid this type of confrontation, which has a negative impact on residents too, mayors must be appointed."
Kuznetsov says the corruption charges against Ishchenko are fabricated and most likely result from the mayor's troubled relations with Volgograd Oblast Governor Nikolai Maksyuta.
Ishchenko has also long been at odds with the local branch of Unified Russia, which recently called for him to be expelled from the party.
Russia And The West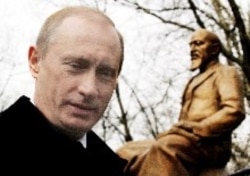 (epa)
COOPERATION, CONFLICT, CONFRONTATION: Relations between Russia and the West are notoriously volatile. "To see the kind of relationship that presidents Bush and Putin have developed and to see Russia firmly anchored in the West, that's really a dream of 300 years, not just of the post-Cold War era," then-national security adviser Condoleezza Rice said in May 2002.
But observers have increasingly called into question the extent of the shared values between Russia and the West, particularly on issues relating to the transformations going on in other former Soviet countries.
RELATED ARTICLES
Silent Diplomacy Versus Public Criticism
Analysts Say New Arms Race Unlikely
Moscow 'Unhappy' With Outcome Of CFE Conference
Moscow And Washington Spar Over WTO Membership
Russia Gears Up To Improve Its Image Abroad
Experts Urge U.S. To Rethink Relations With Russia
U.S. Official Says Russian NGO Law Part Of Antidemocratic Trend
ARCHIVE
To view an archive of RFE/RL's coverage of Russia, click here; to view an archive of RFE/RL's coverage of U.S.-Russian relations, click here.

SUBSCRIBE
For news and analysis on Russia by e-mail, subscribe to "RFE/RL Russia Report."