German Soccer Head Against Ahmadinejad Cup Ban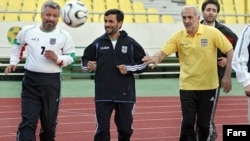 President Ahmadinejad trains with Iran's soccer team in March (Fars) June 4, 2006 -- The co-president of the German soccer association, DFB, has said he is against banning Iranian President Mahmud Ahmadinejad from the World Cup starting on June 9.
Theo Zwanziger told German radio that such a move would make the Iranian president a "martyr."
He added that if Ahmadinejad does enter Germany, he would be told "in all clarity" that his remarks about whether the Holocaust happened is "absolutely unacceptable" and "criminal."
On June 1, a group of European lawmakers urged FIFA, the world soccer governing body, to prevent Ahmadinejad from traveling to Germany to watch his country's team play.
(Reuters)