Speaking at the opening of the summit, Romanian Foreign Minister Mihai Razvan Ungureanu said, "We should all work to define a new vision for the Black Sea region, a new vision that would reflect the new realities and create better conditions for its development."
The presidents of Romania, Ukraine, Moldova, Georgia, Armenia, and Azerbaijan will explore setting up new energy routes to ensure supply stability between Central Asia and Europe.
The EU wants to diversify energy supplies after a pricing dispute between Ukraine and Russia cut supplies to Europe in January.
Also on the agenda are talks about the dispute between Armenia and Azerbaijan over the territory of Nagorno-Karabakh. The enclave is an internationally recognized part of Azerbaijan but under de facto control of ethnic Armenian separatists.
Officials attending today's summit in the Romanian capital include Ukrainian President Viktor Yushchenko, Moldovan President Vladimir Voronin, Georgian President Mikheil Saakashvili, Armenian Robert Kocharian, and Azerbaijani President Ilham Aliyev.
(Reuters, Realitatea TV)
Universal Principles?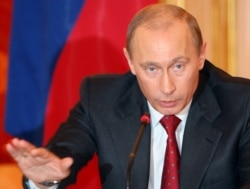 President Putin at a Kremlin meeting in April (epa)
PUTIN SPEAKS OUT: During a January press conference, Russian President Vladimir Putin said there is a need for "universal principles" to settle "frozen" conflicts in the CIS. His comments came against the background of impending talks on the future status of Kosovo, which many predict will grant it a form of "conditional independence" from Serbia and Montenegro. As an ally of Serbia, Moscow has consistently opposed the idea of Kosovar independence. Putin's remarks suggest he may be shifting his position, but only if the principles applied to Kosovo are also applied to frozen conflicts in the former Soviet Union. If Kosovo can be granted full independence, he asked, why should we deny the same to Abkhazia and South Ossetia? (more)
RELATED ARTICLES
Putin Calls For 'Universal Principles' To Settle Frozen Conflicts
Russia Key To OSCE's Attempts To Resolve Frozen Conflicts
Georgia Pushes For EU Backing In Standoffs With Russia
ARCHIVE
Click here to view archives of RFE/RL's coverage of the conflicts in Abkhazia, Chechnya, Kosovo, Nagorno-Karabakh, Ossetia, and Transdniester.