In a rare direct criticism of the United States by a senior UN official, Deputy Secretary-General Mark Malloch Brown said on June 6 that Washington uses the UN as a international diplomatic tool but fails to defend the world body from attacks by critics in America who ignore the UN's good works.
U.S. Ambassador to the UN John Bolton condemned the speech as a "very grave mistake" that could end up harming the United Nations.
"And to have the deputy secretary-general criticize the United States in such a manner can only do grave harm to the United Nations," Bolton said. "Even though the target of the speech was the United States, the victim, I fear, will be the United Nations."
Bolton gave no details on how the UN could be harmed as a result of the speech.
UN Secretary-General Kofi Annan has rejected a demand from Bolton that he repudiate the speech. Annan's spokesman Stephane Dujarric said Annan agrees with Malloch Brown's views.
(compiled from agency reports)
UN Human Rights Council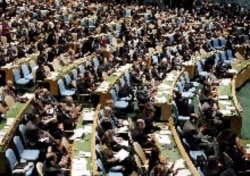 UN General Assembly delegates applaud the creation of the UN Human Rights Council on March 15, 2006 (epa)
A FRESH START ON HUMAN RIGHTS: The United Nations General Assembly on May 9 elected members to its new Human Rights Council, a step that reformers hope will help improve the United Nations' sullied record on defending human rights. The UN's old human rights watchdog -- the Commission on Human Rights -- had long been criticized for granting membership to countries with dismal human rights records, such as Cuba, Sudan and Zimbabwe.
Every member of the new body has to pledge to promote human rights. (more)
RELATED ARTICLES
General Assembly Votes To Create New Rights Council
Vote On Human Rights Council In Limbo Over U.S. Objections
At 60, UN Gripped By Debate on Human Rights Reform
SUBSCRIBE
For a regular review of civil-society developments throughout RFE/RL's broadcast region,
subscribe to "RFE/RL (Un)Civil Societies."