Report Says Migration To Rich Countries Up Sharply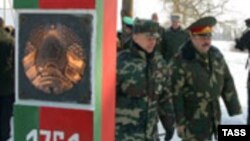 A checkpoint on the border between EU-member Lithuania and Belarus (file photo) (ITAR-TASS) PRAGUE, June 8, 2006 (RFE/RL) -- A new report says migration to rich countries has risen sharply, while the number of asylum seekers is down.
The Organization for Economic Cooperation and Development (OECD) said today that long-term migration to its member countries rose about 15 percent in 2004.
The OECD's Georges Lemaitre said the rise was partly due to a 34 percent increase in migration to the United States.
"In the United States the green cards have gone back up after a temporary downturn due to restrictions that were introduced following [the] September 11[, 2001, terrorist attacks]," Lemaitre said. "But there are a number of countries where there have been substantial increases. Australia has increasing migration, the United Kingdom, Italy, and Spain -- these are countries that are essentially going after workers."
The report, the International Migration Outlook, said requests for asylum in the OECD area fell 20 percent in the same period.
The report did not include students, seasonal workers or illegal migration in its statistics.
The OECD groups industrialized countries in Europe, North America and Asia.