U.S. President George W. Bush said U.S. forces "delivered justice" to al-Zarqawi. He said, however, that he expects the insurgency and sectarian violence to continue in Iraq.
"Zarqawi is dead, but the difficult and necessary mission in Iraq continues," Bush said. "We can expect the terrorists and insurgents to carry on without him. We can expect the sectarian violence to continue, yet the ideology of terror has lost one of its most visible and aggressive leaders. Zarqawi's death is a severe blow to Al-Qaeda."
"Now, Zarqawi has met his end, and this violent man will never murder again," he added. "Iraqis can be justly proud of their new government and its early steps to improve their security."
British Prime Minister Tony Blair called the killing "very good news" and a "very important moment for Iraq." He added that al-Zarqawi's death "is a strike against Al-Qaeda in Iraq and, therefore, a strike against Al-Qaeda everywhere."

Australian Prime Minister John Howard made similar remarks, while NATO spokesman James Appathurai said al-Zarqawi "will not be missed."
Pakistani Foreign Ministry spokesman Tasnim Aslam described the slaying as "significant." Afghan President Hamid Karzai called the killing a "severe blow" to terrorism.
Japanese Senior Vice Foreign Minister Katsutoshi Kaneda said he hopes the killing will help improves the security situation in Iraq.
Key Security Posts Finally Filled
Meanwhile, Iraqi Prime Minister Nuri al-Maliki was finally able to announce that his governing coalition has managed to agree on candidates for three important portfolios -- defense, national security, and interior.
While al-Maliki belongs to the Shi'ite majority in Iraqi, he has striven to name a government of national unity by including many Sunnis to lead important cabinet ministries.
Today, Iraq's parliament in Baghdad approved al-Maliki's nominations for these ministries, including a Sunni as defense minister. He is General Abd al-Qadir Muhammad Jasim.
The national security minister is Sherwan al-Wa'ili, and the interior minister is Jawad al-Bolani. Both are Shi'a.
Both Blair and Bush promised their countries' support for Iraq's new government. Blair added that al-Maliki's success in completing his cabinet shows a new sense of political character in Iraq.
"I do not minimize the enormous challenges that remain in Iraq and elsewhere, but the election of the new government and its full formation today shows a new spirit to succeed, and our task, obviously, is to turn that spirit, that willingness and desire to succeed into effective action," Blair said.
And Bush said he believes al-Maliki is now ready to address the nation's pressing needs: reconciliation, reconstruction, and defeating the insurgency.
The U.S. leader made it clear that recent history has left him with no illusions about the immediate future. But Bush allowed himself to bask, if only briefly, in the good news.
"We have tough days ahead of us in Iraq that will require the continued patience of the American people," he said. "Yet, the developments of the last 24 hours give us renewed confidence in the final outcome of this struggle -- the defeat of terrorism and a more peaceful world for our children and grandchildren."
And the good news was, indeed, fleeting. Shortly after al-Maliki announced the death of al-Zarqawi today, bombs exploded in a predominantly Shi'ite neighborhood of Baghdad, killing at least 19 people and wounding more than 40 others.
(compiled from agency reports)
MORE: For more stories on al-Zarqawi's death, click here and here.
Sectarian Iraq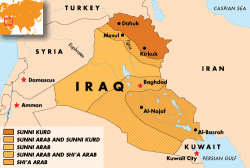 Click to enlarge the image.
SUNNI, SHI'A: Iraq is riven along sectarian lines, faults that frequently produce violent clashes and are a constant source of tension. Sectarian concerns drive much of Iraqi politics and are the main threat to the country's fragile security environment.


THE COMPLETE PICTURE: Click on the image to view RFE/RL's complete coverage of events in Iraq and that country's ongoing transition.