Russia: Media Create Friends, Foes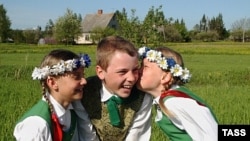 Nearly half of those polled didn't have a good impression of Latvia (ITAR-TASS) A recent poll has shown that many Russians have a low opinion of some of their neighbors and the United States. According to a May poll conducted by the national Levada Center, 37 percent of Russians regard the United States as an unfriendly state, compared with 23 percent last year. Forty-six percent of Russians consider Latvia to be unfriendly, 44 percent think the same of Georgia, and 42 percent about Lithuania.
Much lower down the list (but higher in regard) were Afghanistan, Moldova, and Poland.
The poll was conducted among 1,600 respondents in all regions of Russia
The recent deterioration of relations between Russia and the United States has likely contributed to the growth in anti-American sentiments among Russian people.
Growing public animosity toward the Baltic states and GUAM countries (Georgia, Ukraine, Azerbaijan, and Moldova) comes as little surprise. The Russian media frequently portrays the Baltic countries in a negative light and officials, taking their lead from President Vladimir Putin and the Duma, regularly chastise these countries for their Euro-Atlantic orientation.
The Russian press has already dubbed the countries stretched from the Baltic to the Black seas as the "belt of un-chastity." Print, broadcast, and online media routinely accuse Latvian officials of having Nazi sympathies. Circulating the Internet this year was a cartoon of Latvia's president, Vaira Vike-Freiberga, wearing an SS uniform.
And last year, "Komsomolskaya pravda" waged war on Latvian sprouts, one of the country's biggest exports, with the slogan: "Buy Latvian sprouts and help the SS." Moscow journalists routinely accuse Latvian politicians of "Russophobia."
Creating Friends
Russian media is also significant in helping create an image of Russia's "friends." According to the Levada poll, the country held in the highest regard is Belarus, which is considered to be a friendly state by 47 percent of respondents (46 percent in 2005). In second place is Germany with 23 percent, followed by Kazakhstan with 20 percent, India with 16 percent, and China with 12 percent.
But even in those "friendly" countries there was a fall in support. In 2005, 24 percent of people rated China as friendly and 33 percent of people thought warmly of Kazakhstan.

SUBSCRIBE For news and analysis on Russia by e-mail,
subscribe to "RFE/RL Russia Report."