The Kremlin says it is counting on a leading U.S.-based public relations agency, Ketchum, to improve what it describes as Russia's undeservedly bad reputation in the West.
In Western eyes, Russia has made a string of faux pas since taking over the rotating presidency of the G8.
Last month, when Russia banned homosexuals from holding a peaceful march in Moscow, Western observers were shocked. When religious and nationalist activists beat up the handful of homosexuals who dared defy the ban -- including a German deputy -- in front of Western cameras, they were horrified.
Gas-Price Rise
G8 leadership, in fact, has been marred by scandal from the very first day. On January 1, Moscow abruptly shut off gas supplies to Ukraine after a row over gas prices, casting severe doubts in the West over Russia's commitment to act as a reliable energy supplier.
Many policy watchers, however, said Russia was perfectly entitled to raise gas tariffs for Ukraine, whose president, Viktor Yushchenko, has pledged to steer his country away from Russia.
'Misunderstood'
But as in numerous other instances, the Kremlin somehow entirely failed to get its point across.
Dmitry Peskov, Putin's deputy press secretary, concedes that Russia has a communications problem with the West.
"The situation surrounding the conflict between Gazprom and Ukraine probably demonstrated most clearly that we are not always understood correctly," Peskov said. "Gazprom did not sever supplies to Western consumers, and the argument was with Ukraine only. But many analysts literally refused to understand this, and accused Russia of using its gas and its natural resources as a means to put political pressure on some countries, whereas this is purely a business question."
Peskov says things may not have turned so sour at the time if Russia had been advised by a Western PR firm. The Kremlin decided last year to hire an international image-management firm, but it was only after the Ukraine crisis that Ketchum took on the multimillion-dollar contract.
Ketchum
Now, with Ketchum's help, Peskov is hopeful that Moscow will be able to convey its intentions more clearly and avoid any more major scandals. Still, he admits, the power of PR has its limits.
"We hope that most of it is due to incomprehension, in which case a communications firm will help overcome this incomprehension," Peskov said. "But of course, we are unlikely to be able to explain anything to those who have a [politically] engaged, negative attitude toward Russia."
The Kremlin's interest in PR goes back a few years.
It started with then-Media Minister Mikhail Lesin declaring in 2001 that the country needed to groom its image abroad unless Russians wished, in his words, to "always look like bears."
In 2004, Russia created the Valdai Discussion Club, a grouping that brings together top Russian officials, politicians, economists, and foreign political analysts for an annual conference on Russian state policy.
In December 2005, the country launched Russia Today, a state-funded English-language television news channel aimed at showing foreign audiences a more positive image of Russia. Critics have dismissed Russia Today as another propaganda tool for the Kremlin aimed at detracting from what some say is the country's growing antidemocratic tendencies.
Well Received
But the decision to hire Ketchum has received a warmer welcome.
Andrei Richter, the director of the Moscow Media Law and Policy Center, views the Kremlin's decision to sign up with Western public-relations advisers as a constructive step that could help defuse some of the tensions surrounding Russia's G8 presidency.
"I think it will help. These [PR] companies wouldn't exist if they didn't help," Richter says. "After all, I think the situation is not that bad, and any advice, any help, from this type of firm will benefit Russia's image."
Peter Guilford, the cofounder of GPlus Europe, Ketchum's Brussels-based sister company, says the decision to hire a Western PR firm is the Kremlin's response to the rare opportunity presented by Russia's G8 presidency.
"I think they realized that in the normal course of events they can do it themselves, but the G8 presidency is an exceptional opportunity and an exceptional year where they need an exceptional response. So they've decided to outsource a lot of the communications work as much as anything to make the life of the Western press easier in the run-up to the St. Petersburg summit in July, and beyond," Guilford says.
Ketchum, whose clients include Kodak and the World Economic Forum in Davos, in the past has said it aims to promote the three key issues of Russia's G8 presidency: education, health, and -- most importantly -- energy security.
Russia has not been shy about stating it intends to use the G8 post to promote its standing as a top global energy provider. It now falls to Ketchum to make such goals palatable to the West.
Nikolai Petrov, a political analyst at the Carnegie Center in Moscow, says hiring the firm may prove the most effective way for the Kremlin to deliver its message to the West.
"I think that overall, it is a rather positive thing,"Petrov said. "Western PR firms can play a very serious role by effectively relaying what the Kremlin would like to tell Western public opinion and the political class, while taking into account the characteristics of the countries where this campaign will be taking place."
Some critics say, however, that hiring Ketchum is little more than a new twist on the old theme of the Potemkin village -- showing a friendly face to the outside world in order to hide harsh realities at home.
MORE: To read RFE/RL Russian Service coverage of this topic in Russian, click here.
Russia And The West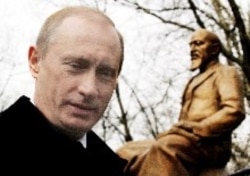 (epa)
COOPERATION, CONFLICT, CONFRONTATION: Relations between Russia and the West are notoriously volatile. "To see the kind of relationship that presidents Bush and Putin have developed and to see Russia firmly anchored in the West, that's really a dream of 300 years, not just of the post-Cold War era," then-national security adviser Condoleezza Rice said in May 2002.
But observers have increasingly called into question the extent of the shared values between Russia and the West, particularly on issues relating to the transformations going on in other former Soviet countries.
RELATED ARTICLES
Silent Diplomacy Versus Public Criticism
Analysts Say New Arms Race Unlikely
Moscow 'Unhappy' With Outcome Of CFE Conference
Moscow And Washington Spar Over WTO Membership
Russia Gears Up To Improve Its Image Abroad
Experts Urge U.S. To Rethink Relations With Russia
U.S. Official Says Russian NGO Law Part Of Antidemocratic Trend
ARCHIVE
To view an archive of RFE/RL's coverage of Russia, click here; to view an archive of RFE/RL's coverage of U.S.-Russian relations, click here.

SUBSCRIBE
For news and analysis on Russia by e-mail, subscribe to "RFE/RL Russia Report."