The governing board-level meeting of the IAEA is not expected to directly address Iran's nuclear activities until sometime in the middle of this week.
Shaping Discussion
But even before the meeting began in Vienna today, some of the players in the crisis sought to shape the outcome of the discussions.
Iran's envoy to the UN's nuclear watchdog, Ali Asqar Soltanieh, urged the board of governors to exercise restraint. He said the board should refrain from making any "politically motivated statements that could spoil the environment" for a diplomatic solution.
But just what form a diplomatic solution to the nuclear crisis might take is still far from clear. The prospects center on an incentives offer presented to Tehran on June 6.
"There are also a few points that are unclear, and which we are waiting for clarification on -- such as uranium enrichment in Iran, which was not really addressed in a clear way." -- Iran's nuclear negotiator

The offer, agreed upon by the five permanent members of the UN Security Council plus Germany, promises Iran technical help with its nuclear energy program and trade benefits if Tehran suspends uranium enrichment.
So far, Iranian officials have said they are ready to negotiate but have yet to
react formally to the offer
.
"This proposal contains some positive points, such as the nuclear reactor for Iran," Supreme National Security Council chief and top nuclear negotiator Ali Larijani said about the incentives offer on June 11 in Cairo.
"Also, coordination with Iran and taking advantage of Iran's expertise on stability in the region and coordination with Iran on regional security. We are willing to deal with this to reach stability and security in the region," Larijani added.
Key Issue Of Enrichment
But Larijani tempered this noting that there are also points to which Iran objects. "There are also a few points that are unclear, and which we are waiting for clarification on -- such as uranium enrichment in Iran, which was not really addressed in a clear way," he said.
Any forthcoming diplomatic negotiations are likely to center on whether and how Iran might suspend uranium enrichment temporarily if it can retain the right to have a domestic uranium-enrichment program in the future.
Reuters today quoted Western diplomats as saying privately that the incentives offer could allow Iran to later engage in uranium enrichment if it meets tough preconditions. Those would include an immediate, open-ended halt to enrichment work, probably lasting years, and full cooperation with IAEA inspectors.
But it is far from certain whether Tehran would accede to such terms. Larijani on June 11 rejected any preconditions. And on June 10, Iranian Foreign Minister Manuchehr Mottaki said his government would issue a counteroffer to the incentives package.
Iran has repeatedly said it has the right to uranium enrichment under international nuclear treaties and will use the technology to domestically produce fuel for its planned nuclear reactors.
However, at high levels of enrichment, the technology can equally be used to create material for nuclear bombs. Western states accuse Iran of pursuing nuclear weapons under the cover of a peaceful energy program.
Clock Running
A big question now is how long the UN powers will give Iran to negotiate over the incentives offer before trying to apply new pressure through the Security Council.
"We've given the Iranians a limited period of time, you know -- weeks, not months -- to digest a proposal to move forward, and if they choose not to verifiably suspend their [nuclear] program, then there will be action taken in the UN Security Council," U.S. President George W. Bush said on June 9.
The United States has said it will join talks with Iran if Tehran first suspends uranium enrichment.
Meanwhile, a report by IAEA weapons inspectors to the Vienna-based watchdog on June 8 said that Iran is continuing work on nuclear enrichment.
The report, prepared in the run-up to this week's board of governors meeting, also said that nuclear inspectors have made little progress on clearing up other worrying aspects of Tehran's past nuclear activity.
What The Street Thinks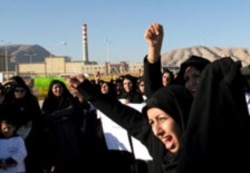 A demonstration in support of Iran's nuclear program outside the Isfahan uranium-conversion facility in Isfahan in January (epa)

IRANIANS SPEAK OUT ON THE DISPUTE: To find out more about what Iranians think about the international controversy over their country's nuclear program, RADIO FARDA asked listeners to express their views....(more)
See also:
Iran: Public Has Mixed Feelings On Nuclear Issue

THE COMPLETE PICTURE: RFE/RL's complete coverage of controversy surrounding Iran's nuclear program.
CHRONOLOGY
An annotated timeline of Iran's nuclear program.