EU Agrees To Start Turkey Membership Talks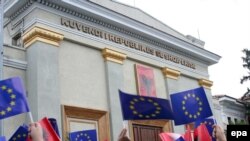 Tirana residents celebrate after Albania took the first step toward joining the EU today (epa) (epa) June 12, 2006 -- The European Union's Austrian Presidency says EU foreign ministers have reached an agreement to start detailed membership negotiations with Turkey after overcoming Cypriot objections.
Cyprus had threatened to block
Turkish membership negotiations
even before they start in earnest. Cyprus wants Ankara first to recognize and normalize relations with it.
Turkey does not recognize the Greek Cypriot government.
The EU ministers today also agreed to start membership talks with Croatia, formally recognized Montenegro's independence from Serbia, and gave the green light to deploy 2,000 troops to help secure the Democratic Republic of Congo's July presidential and parliamentary elections.
Meanwhile, Albanian Prime Minister Sali Berisha and EU Enlargement Commissioner Olli Rehn signed a Stabilization and Association Agreement, the first step on Tirana's path to possible EU membership.
(compiled from agency reports)