PRAGUE, June 14, 2006 (RFE/RL) -- The most senior official accused among defendants is Yerzhan Utembaev, who was the head of the Senate administration in February when Sarsenbaev and the others were shot dead.
Utembaev and the nine other defendants have reportedly confessed to roles in the killings. Some media have speculated that Utembaev wanted Sarsenbaev dead over unflattering comments he made about the Senate official in interviews.
The court in Taldy-Qorgan is expected to determine whether the murder of Altynbek Sarsenbaev and the other two men was a political assassination or the result of a personal grudge.
Official Involvement?
According to state investigators' version of events, Utembaev ordered the murders and members of the National Security Service's (KNB) elite Aristan unit carried them out.
But opposition groups suggest that the conspiracy reaches further up into the highest echelons of state power. They claim Utembaev didn't have the authority to order the killing of Sarsenbaev, a leading opposition figure and a former minister of information and ambassador to Russia.
Tolen Tokhtasynov, of the opposition For A Just Kazakhstan movement, says investigators should have pursued such suspicions.
"Our society has a specific question: Were the members of the [presidential] family involved in the murder?" Tokhtasynov tells RFE/RL. "The investigation did nothing to answer that question. Lawyers for the relatives of the deceased recommended that investigators question [President Nursultan Nazarbaev's eldest daughter] Darigha Nazarbaeva, [Nazarbaeva's husband] Rakhat Aliev, [then National Security Service chief] Nartay Dutbaev, and the president himself -- in order to get clear answers to out society's questions. But investigators did not do that."
President Nazarbaev has remained silent about the killings. But his son-in-law, Rakhat Aliev, successfully sued a former intelligence officer who hinted in interviews that Aliev was behind the killings.
Remote Courtroom
The venue of the trial has become an issue, too. Taldy-Qorgan is more than 200 kilometers north of the commercial capital, Almaty, where Sarsenbaev and the others were abducted. Members of Sarsenbaev's family have petitioned to have the trial moved to Almaty. But authorities counter that, since the bodies were found in the Taldy-Qorgan district, jurisdiction lies with a district court there.
The slain Sarsenbaev's older brother, Rysbek, tells RFE/RL that the distance from Almaty effectively prevents family members from attending the trial, although they would like to do so.
"The [victims'] parents, brothers, sisters, their spouses and children -- their relatives are [all] deprived of their rights," Rysbek Sarsenbaev says. "They deprive us of our right to be present at the trial. That is not good. We want to look into the eyes of those who ordered the killings, into the eyes of those carried out the killings. We want to hear what they say. Is it really they who committed the crime, or different people who did that. It's not yet clear. Why do they deprive us of our right to attend the trial?"
While the Sarsenbaevs and the other victims' families were unable to attend the trial as it began today, representatives of the Organization for Security and Cooperation in Europe (OSCE), foreign embassies, and international media are in the courtroom to watch the proceedings.
The trial marks a rare prosecution of officials suspected of wrongdoing in a country more accustomed to trials in which members of the opposition are the defendants.
(Merhat Sharipzhan and Edige Magauin of RFE/RL's Kazakh Service contributed to this report.)
Kazakhstan's Fallen Opposition
Kazakhstan's Fallen Opposition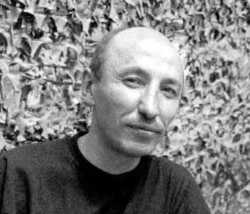 Slain Kazakh journalist Askhat Sharipzhanov (undated RFE/RL file photo)
February 13, 2006:
Altynbek Sarsenbaev
-- a leader of the Kazakh opposition, co-chairman of the Naghyz Aq Zhol party, former minister of information, former Kazakh ambassador to Russia, former secretary of Kazakhstan's Security Council -- is found dead with his bodyguard and his driver, shot to death, execution style, with their hands bound behind their backs.
November 11, 2005: Zamanbek Nurkadilov-- prominent Kazakh politician, former mayor of Almaty, former Minister of Extraordinary Situations, and since a vocal critic of President Nursultan Nazarbaev since March 2004 -- is found shot to death, with two shots in his chest and one in his head. Kazakh authorities officially rule the case a suicide.
June 2, 2005: Batyrkhan Darimbet -- opposition journalist and editor in chief of the weekly AZAT -- is killed in what is officially reported as a traffic accident. Relatives and activists assert that it was a political killing.
December 19, 2004: Erzhan Tatishev -- head of Kazakhstan's largest bank, TuranAlemBank -- is killed in what was officially described as a hunting accident. Kazakh political observers allege that it was a premeditated assassination.
July 20, 2004: Askhat Sharipzhan-- independent journalist and political commentator for NAVI online -- dies of injuries sustained several days earlier in what was officially reported as a hit-and-run accident. Relatives and colleagues believe it was an assassination.
November17, 2002: Independent journalist Nuri Muftakh is killed in what is officially reported as a traffic accident. Colleagues and activists regard the death as suspicious.
January 4, 2002: Human rights activist Aleksei Pugaev is found dead, the victim of a hit-and-run car accident. Colleagues regard the circumstances as suspicious and no one is ever arrested in connection with the death.
(compiled by RFE/RL's Kazakh Service)
RELATED ARTICLES
Sarsenbaev Murder Trial Begins
Kazakh President Tries To Calm Growing Political Crisis
Nazarbaev Landslide Buries Future Problems
Nazarbaev Touts Stability In Run-Up To Election
ARCHIVE
To view an archive of RFE/RL's coverage of Kazakhstan, click here.

SUBSCRIBE
For weekly news and analysis on all five Central Asian countries by e-mail, subscribe to "RFE/RL Central Asia Report."