In its survey last year, the Washington-based Pew Research Center said anti-Americanism showed some signs of abating, partly because U.S. aid for the victims of the 2004 Asian tsunami helped generate positive feelings toward the United States.
But the center says that goodwill has now largely gone. Instead, favorable opinions of the United States have fallen in most of the countries surveyed.
"Iraq is still holding back any real improvement in the U.S. image in Europe, at least." -- Doherty
Only about one-quarter of Spanish respondents, for example, said they had a positive view of the United States, down from 41 percent last year. There were also sharp drops in Turkey (to 12 percent from 23) and India (to 56 percent from 71).
Doubts About War On Terror
And international support for the U.S.-led war on terrorism continued to drop, with only two countries outside the United States, Russia and India, showing majority support.
"What we're seeing is the continuing toll on both of those issues from the war in Iraq," says Carroll Doherty, an associate director of the Pew Research Center for the People and the Press.
"Iraq is still holding back any real improvement in the U.S. image in Europe, at least," Doherty adds. "And in predominantly Muslim countries we see really no signs of improvement, it's not even clear whether Iraq or other factors are major, there are a number of tensions there. In all, it's a pretty bleak picture."
Iraq Continues To Be Divisive
Iraq figures prominently in the survey. Respondents in only three countries -- the United States, India, and Nigeria -- said the war there had made the world a safer place.
In Great Britain, the United States' most important ally in Iraq, some 60 percent said the war had made the world more dangerous, while just half that number held the opposite view.
And people in every country except Germany and the United States said the U.S. presence in Iraq was a greater danger to world peace than Iran's nuclear ambitions.
More Unity On Iran
But the report also showed some common ground, too. It said the publics in some of the United States' major allies share U.S. concerns, particularly with regard to Iran and its nuclear ambitions.
Concern over Iran has risen sharply in Europe over the last few years. Now, over half of German respondents say they see Iran as a "great danger" to the world, up from just 18 percent three years ago.
And people in the United States and Western Europe are worried about what Iran might do if it developed an atomic bomb.
Big majorities in those countries said that a nuclear-armed Iran would likely attack Israel. And the publics in Muslim and non-Muslim countries alike share a widespread belief that "a nuclear-armed Iran is likely to attack the United States or European nations," the survey said.
"The concerns are certainly there on both sides of the Atlantic," Doherty says. "I think that's an important point, and that's something new, that's something we haven't seen in past surveys where there was this common ground, or common thread at least."
The survey interviewed some 17,000 people in the United States, Europe, Asia, the Middle East, and Africa.
U.S. Report On Global Human Rights
U.S. Report On Global Human Rights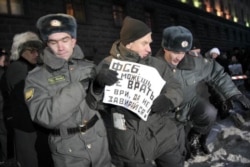 Police in Moscow arrest human rights demonstrators on February 1 (courtesy photo)
THE RECORD ON RIGHTS: On March 8, the U.S. State Department issued its global report on human rights. According to the report, 15 years after the breakup of the Soviet Union, human rights are improving in many post-communist countries. But problems persist in others, it says, despite the worldwide explosion of information and Western efforts to spread democracy. (more)
For more detailed information, see:
Azerbaijan Cited For Political Harassment, Police Brutality
Child Labor, Human Trafficking Cited In U.S. Report On Afghanistan
U.S. Says China, Iran 'Most Systematic' Rights Violators
Human Rights Not A Priority In Central Asia, U.S. Report Says
U.S. Report Points To Serious Abuses In Iraq
Abuses In Chechnya, Centralized Power Cited In U.S Report On Russia
U.S. Says Serious Human Rights Violations Occurring In Iran



SUBSCRIBE
For a regular review of civil-society developments throughout RFE/RL's broadcast region,
subscribe to "RFE/RL (Un)Civil Societies."