The International Federation of Journalists (IFJ), together with
regional journalism organizations, has organized demonstrations in
Iraq for today to highlight the growing number of journalists killed in
Iraq.
IFJ General Secretary Aidan White told RFE/RL that the past three years in Iraq have been the deadliest ever for journalists.
"It
is unquestionably the most dangerous and difficult period experienced
by any group of journalists in modern history," he said. "We have a
situation where more than 130 journalists and media staff have been
killed in the last three years, journalists are regularly targeted,
they've been taken hostage, they're subject to political pressure,
there's never really been anything like it."
The IFJ said the
event has three main goals: providing humanitarian support to Iraqi
journalists and their families, creating an international group to
protect journalists in Iraq, and urging the international community to
provide more assistance for Iraqi journalists.
White said
more than 100 national associations and unions of journalists have
signed an appeal for support for Iraqi journalists, and money has been
donated to an international humanitarian appeal fund for the victims
of violence in Iraq.
Two local media unions, the Iraqi Syndicate
of Journalists and the Kurdish Association of Journalists, have joined
with the IFJ to organize today's demonstrations.
World Press Freedom Day
NOT REALLY SO FUNNY:
The Paris-based World Association of Newspapers asked French cartoonist Michel Cambon to produce a series of cartoons on the theme of jailed journalists to mark World Press Freedom Day (May 3). Below, RFE/RL reproduces several of Cambon's cartoons.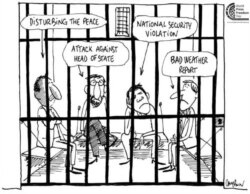 (WAN/Cambon)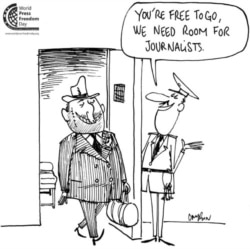 (WAN/Cambon)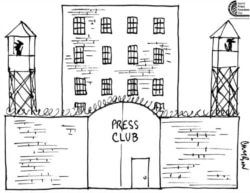 (WAN/Cambon)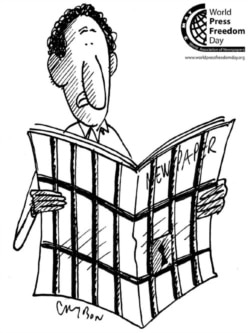 (WAN/Cambon)

RFE/RL's Press Freedom Day stories:
Iraq: Covering The Most Dangerous Beat On Earth
Afghanistan: Women In Journalism Battle Restrictions, Threats
Iran: State Maintains Tight Control Over Information
CIS: Press Freedom In Former Soviet Union Under Assault
Central Asia: Bureaucratic Obstacles Hinder Journalists
Central Asia: Governments Wary Of Independent Media
Central Asia: Journalists Still Face Harassment, Threats

ARCHIVE
To view an archive of RFE/RL's coverage of media-related stories, click here.
SUBSCRIBE
For regular news and analysis on media issues throughout RFE/RL's broadcast area by e-mail,
subscribe to "RFE/RL Media Matters."