Bryza will replace Ambassador Steven Mann as the U.S. co-chairman. The Minsk Group is co-chaired by the United States, France, and Russia.
Predominantly ethnic Armenian Nagorno-Karabakh seceded from Soviet Azerbaijan in 1988, triggering a six-year war that ended with a truce. Officially, Armenia and Azerbaijan are still at war.
Armenian President Robert Kocharian and Azerbaijani President Ilham Aliyev held their latest round of talks on June 5 in Bucharest, but no progress was reported.
Oskanian told RFE/RL that he met on June 13 in Paris with Azerbaijani Foreign Minister Elmar Mammedyarov to try to narrow differences, but failed to make progress.
A Precarious Balance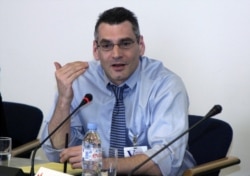 Richard Giragosian at RFE/RL on May 25 (RFE/RL)
SECURITY SLIPPING AWAY?
: On May 25, RFE/RL's Prague broadcasting center hosted a talk by
RICHARD GIRAGOSIAN
titled, "The Military Balance In The South Caucasus And Nagorno-Karabakh." Giragosian, a Washington-based analyst of international relations in the former Soviet Union, concentrated on the military balance between Armenia and Azerbaijan as the two countries continue to increase defense spending. Girogosian argued that corruption is the main threat to the national security of both countries. He also commented on other security issues in the South Caucasus, Iran, elsewhere.
LISTEN
Listen to the entire briefing (about 60 minutes):
Real Audio
Windows Media
Selected Articles By Richard Giragosian:
Nagorno-Karabakh: Peace May Depend On Military Situation
Georgia: Gas Cutoff Highlights National Security Flaws
Azerbaijan: Has Government Taken A Troubling Example From Andijon?
ARCHIVE
For an archive of RFE/RL's coverage of Nagorno-Karabakh, click here.

SUBSCRIBE
For weekly news and in-depth analysis on Armenia, Azerbaijan, Georgia, and Russia's North Caucasus by e-mail, subscribe to "RFE/RL Caucasus Report."