CHISINAU, June 15, 2006 (RFE/RL) -- Several people work seated at tiny desks in a couple of crammed, badly lit rooms at the top of a staircase with no elevator in a Soviet-era building in Chisinau.
Not exactly someone's idea of modern office space, but there's one thing that lights up the place -- hope. Hope for many desperate women who come here to escape human trafficking and its horrific effects.
This is the Moldovan headquarters of the La Strada Program, an international network combatting trafficking in women from Central and Eastern Europe.
La Strada, in addition to providing support for human-trafficking victims, is involved in an international campaign meant to raise awareness among local women about the increased dangers of human trafficking during the World Cup.
Worried About The World Cup
La Strada Vice President Daniella Misail-Nichitin says its existing hotline has been updated to offer guidance related to work offers in Germany during the World Cup.
"Our permanent hotline also offers specific information in relation to this event, when it comes to [work] offers in Germany," Misail-Nichitin said. "We are ready to give advice regarding any kind of offer coming from Germany around the World Cup period."
World organizations and foreign governments have warned that up to 40,000 women could be trafficked to Germany for the World Cup to serve as prostitutes for some of the estimated 2 million football fans from across the world.
World organizations and foreign governments have warned that up to 40,000 women could be trafficked to Germany for the World Cup to serve as prostitutes for some of the estimated 2 million football fans from across the world.
Prostitution has been legal in Germany since 2002, with an estimated 400,000 women legally employed as sex workers there.
Germany has seen a boom in sex clubs recently, including the opening of a four-story, 3,000 square-meter mega-brothel in Berlin, just down the road from the World Cup stadium.
The U.S. State Department took the unusual step of warning Germany against forced prostitution in its annual report on human trafficking, which was issued on June 6.
Kidnapping And Deception
The methods used by traffickers range from kidnapping to deception -- the offer of a well-paid job in a foreign country.
For underprivileged or naïve girls and women in poor Eastern European countries such as Moldova, Russia, Ukraine, and Romania, the promise of a job abroad sounds like a dream -- which more often than not, turns out to be a nightmare.
Sveta, a Moldovan girl in her early 20s, was a victim of traffickers before seeking help with La Strada.
"My name is Sveta," she told RFE/RL. "I was lured abroad, to Turkey, under the promise that we would get a job in Cyprus as chambermaids. But when we arrived in Turkey, [the woman who got us there] sold us to some pimps. We were four girls, and we were all sold for $500 each [in Istanbul]."
Sveta recalled her ordeal, which lasted for almost a year, before she managed to run away and go back to Moldova, where La Strada came to her aid.
'I Spent Nine Months There'
"In the beginning, we worked [as prostitutes] in a hotel, but after about a month, we were locked down in a basement," Sveta said. "Clients would come down there and pay the [pimp] master, and we would be forced to work there. When someone refused to work, they would be beaten and kept without food. I spent nine months there."
La Strada's Misail-Nichitin believes the World Cup has increased the danger that girls might fall prey to traffickers. She says that, on the international level, action by antitrafficking NGOs to raise awareness among potential victims is under way.
"We have joined this initiative, and in cooperation with partners from Germany, such as the SOLWODI [Solidarity with Women in Distress] organization, we are informing potential victims about the services provided both by La Strada and other groups, including some from Germany, to facilitate these persons' access to assistance," Misail-Nichitin says.
The Red Card Initiative
Sister Lea Ackermann is a German Catholic nun and the founder of the German nongovernmental organization SOLWODI, which initiated a project dubbed "Red Card For Sexual Abuse And Forced Prostitution."
Ackermann says many women in poor Eastern European countries risk being lured into Germany by false offers of jobs as babysitters, bar workers, or waitresses.
She says that well over 100 NGOs have been involved in the Red Card initiative.
"We were writing to [organizations in] 20 countries more or less in East Europe -- [such as] Estonia, Poland, Bulgaria, Romania, Moldova, Russia, Ukraine, and so on," she says. "And in these 20 countries we had contact with about 150 nongovernmental organizations."
Under the plan, Ackermann's group distributed across Eastern Europe 30,000 yellow cards containing a warning in several languages about the dangers of human trafficking during the World Cup.
Meanwhile, red cards are being handed out to German and foreign men in Germany, warning them about trafficking in women.
The campaign has also established a permanent hotline in Germany where advice and help is offered in several languages.
"We installed a hotline with 20 women being on the service," Ackermann said. "And these women all speak German and another language -- [a total of] six languages [beside German] -- Russian, Polish, Bulgarian, Romanian, French, English."
Ackermann says it is too early into the World Cup tournament to evaluate the efficiency of the Red Card campaign. But she adds that there have been an increasing number of appeals -- hundreds more -- on the German hotline since its inception.
A Bright Spot In A Dark Place
A Bright Spot In A Dark Place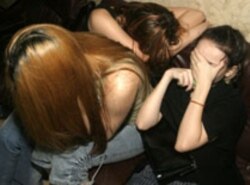 Uzbek women detained in a sweep by police in Jakarta in 2004 (epa)
LOOKING FOR HEROES:
The U.S. State Department report on human trafficking includes a section titled "Heroes Acting To End Modern-Day Slavery." Among the 10 heroes singled out for mention was Uzbek citizen
NODIRA KARIMOVA
, head of the Tashkent office of the International Organization for Migration and founder of the NGO Istiqbolli Avlod. Here is how the State Department described Karimova's contribution to the struggle against trafficking:
HOTLINES, SHELTERS, ADVOCACY: Nodira Karimova's NGO Istiqbolli Avlod has assisted over 300 victims and is operating a shelter for returned trafficking victims. Before the shelter opened, Ms. Karimova and her associates took returned victims into their own homes or even rented apartments for them as they began the process of readjustment. In addition, she has worked to expand the number of trafficking hotlines to 10, receiving over 13,000 calls in the last year. Karimova developed a strong working relationship with the Uzbek consul in the United Arab Emirates that has facilitated the repatriation of many Uzbek women. Ms. Karimova also helped organize training for the Uzbek consular officials stationed overseas in January 2005, which spread awareness and made clear to the consular officials that trafficking is a serious problem that demands serious action. She was instrumental in the decision to open additional shelters, one for sexually exploited victims and another for labor trafficking victims, which will open in 2006.
MEET THE NEWSMAKER: To read an interview with Karimova, click here.
RELATED ARTICLES
Kazakhstan: A New Destination For Trafficked Women
Sex Traffickers Prey On Eastern Europeans
Slavery Survives, Despite Universal Abolition
Activists Discuss Human Rights In Central Asia

SUBSCRIBE
For a regular review of civil-society developments throughout RFE/RL's broadcast region, subscribe to "RFE/RL (Un)Civil Societies."